While exploring the best of sci-fi horror books we traveled as far back as 1818 and well into the future. Stories set in the speculative genre known as science fiction have always had a thrill and a sense of wonder about them. Technological advancements, adventures on alien worlds or deep below sea, life-altering discoveries – all aspects that incite excitement in the reader. And yet there are some stories that eschew the glossy-eyed outlook and choose to peer into the darker side of it all. What if those technological advancements come at a high moral price? What if those alien planets hold unfathomable dangers? And what if those discoveries alter life in a way that dismantles the construct of our humanity?
There are many science fiction authors who occasionally dwell on the negative consequences of mankind's headlong rush into the future. Sci-fi greats like Ray Bradbury, Isaac Asimov, Arthur C Clarke, and many others write stories that have a darker side to them. But here at Puzzle Box Horror we lean heavy into the horror side of things, and so in creating this list we sought out books that have sci-fi trappings while also being downright terrifying. The genres of science fiction and horror have many base similarities, and it's our belief that tales that blend the best of both worlds are pretty much perfect. Read on to see our selection of the very best sci-fi horror books!
Hell on Mars by J.Z. Foster and Justin Woodward (2020)
Scientists have been working for years on a secret project at the Mars Felicity Station. Something to do with opening a gateway to another dimension. Suddenly communications with earth are cut and the station goes dark. The US sends a crew in to investigate, but they are completely unprepared for what they find. What starts as a routine investigative mission turns into war with a new terrifying enemy and a high-stakes fight for survival.
The story follows the crew of the Perihelion as they journey towards the space station. We learn about the characters and their personality quirks, but the closer they get to Mars the more the dread begins to mount. When they arrive building suspense bursts vividly into nightmarish horror. Mixing the fast-paced action of Doom, the grotesque creatures of Dead Space, and the cosmic horror of Event Horizon, Hell on Mars is a gory good time and the first book in what is sure to be an exciting series. An immediate addition to our best of sci-fi horror books list.
The Luminous Dead by Caitlin Starling (2019)
Abandoned and alone on a remote planet, Gyre Price descends deeper into the cave. She's lied about having cave-diving experience, hoping the paycheck from the expedition will be enough to cover any incidents that may happen. Her only connection to the outside world is her handler Em, who controls her body suit from the safety of the surface. Unfortunately, Em is both mysterious and dangerous, and she has her own dark plans for Gyre.
The Luminous Dead is a tense, claustrophobic and psychological thriller. Considering the limited setting, essentially just two characters in a mine, it's amazing the levels of emotion and suspense author Caitlin Starling is able to provide. Both characters have secrets and ulterior motives, keeping readers guessing as to where each new revelation will lead. While the pace plods some it's never boring, and it's punctuated with some truly gruesome and terrifying moments.
Annihilation by Jeff VanderMeer (2014)
This Nebula award-winning book is about a group of female scientists on a mission to explore a place that's mysteriously appeared on earth known as Area X. There have been numerous previous missions, all met with disastrous results, insanity, and death.This group of women, whose story is narrated by the biologist, are tasked with exploring the area and avoiding contamination. No matter what they expected to happen after crossing the border, what actually transpires is beyond their wildest imaginations.
Annihilation is a bizarre story of psychological terror and cosmic dread. There's no way to adequately prepare yourself for the strange events that will unfold. The four women are trying to survive in a land that is actively trying to hurt them, but their own secrets and duplicity might just be the thing that tears them apart. The book deals with big questions on life and identity, while mixing weird eco-horror with a healthy dose of cosmic horror in the second half.
Infected by Scott Sigler (2008)
A mysterious bioengineered parasite is spreading disease across America, turning the infected into deranged and bloodthirsty murderers. This sci-fi horror story is told mainly from three different perspectives. First, there's the secret CIA agent Drew Phillips who is searching the country for a victim that's still alive. Second, there's the CDC epidemiologist Magaret Montoya who is racing to better understand the disease. And finally, there's the desk jockey Perry Dawsey who is infected and must fight against his own body to survive. Infected is a glorious combination of gore and thrills that manages to blend nauseating pulp and smart storytelling.
Advertisements

Blindsight by Peter Watts (2006)
In the near future, a space probe happens to pick up transmissions from a distant alien spaceship. Something is whispering in a strange tongue. An unusual crew is thrown together to go investigate the signals: a warrior who wants peace, a biologist entwined with machinery, a linguist with multiple-personality disorder, and a vampire exhumed by paleogenetic witchcraft. This ragtag group boards the alien ship and what begins as a routine investigation quickly devolves into an unnerving series of discoveries. A heady horror sci-fi adventure, Blindsight blends unforgettable images with philosophical inquiries about communication, consciousness, and what it means to be alive.
Ship of Fools by Richard Paul Russo (2001)
Thousands of humans have been living on the spaceship Argonos for several generations, traversing the galaxy in search of other life. Suddenly an unknown transmission captures their attention and leads them to a mysterious yet habitable planet. The planet, named Antioch by the crew, is barren but a group decides to go exploring anyway. They are tired from their aimless wandering of the stars, and they yearn for a new home. Unfortunately, there's more to this planet than first meets the eye. Ship of Fools engages readers with strong character studies while also striking fear into their hearts as the crew begins to unravel into madness.
I Have No Mouth and I Must Scream by Harlan Ellison (1967)
This collection features seven short stories by science fiction great Harlan Ellison, but it's the titular tale that has captivated and terrified audiences the most over the decades. In this story, a post-apocalyptic future finds a small group of five people struggling for survival. Human warfare has wiped out most of the population, and now a malicious supercomputer powered by artificial intelligence has imprisoned the remaining few. They are kept alive only to be brutally tortured by the sadistic machine. It's a disturbingly inventive story, and one that helped create the "A.I. nemesis" trope in the sci-fi horror that followed.
The stories that appear in this collection are:
"I Have No Mouth & I Must Scream"
"Big Sam Was My Friend"
"Eyes of Dust"
"World of the Myth"
"Lonelyache"
"Delusion for Dragonslayer"
"Pretty Maggie Moneyeyes"
The Day of the Triffids by John Wyndham (1951)
A spectacular shower of comets blinds most of the world's population, leaving those few left with sight to battle a race of giant, mobile, flesh-eating plants known as Triffids. As society crumbles, our two main characters Bill and Josella, along with a band of other survivors, must find a way to avoid the poisonous stingers of these assailants and rebuild what they can of civilization. Written during a time of Cold War paranoia, The Day of the Triffids anticipates weapons of mass destruction and biological warfare. Not only did the book help popularize the post-apocalyptic genre, but it remains to this day a staple in the sci-fi horror genre overall.
Who Goes There? By John W Campell (1938)
Scientists at a research camp in Antarctica have discovered a frozen alien form that appears to have crash-landed there a long time ago. Misguided by their excitement, the researchers decide to thaw the creature and chaos quickly ensues. The being they have revived can transform itself to look like both humans and animals, and it's using its shape-shifting abilities to pick them off one by one. Now this paranoid band of men must struggle to survive against a foe who can present itself as a friend. Though this story is better known as the 1982 John Carpenter film The Thing (plus various other movie remakes), it's interesting to go back and look at the sci-fi horror novella that started it all.
Frankenstein by Mary Shelley (1818)
At this point everyone is familiar with Mary Shelley's story of Dr. Frankenstein and the reanimated being he assembles. Written centuries ago, this story has spawned countless iterations and made Frankenstein's monster a pop culture horror icon. Though the book features a mad scientist and explores early on the methods used to reinvigorate life, a large part of it focuses on the humanity of the monster and the inhumanity of those around him. While it doesn't fall into the horror genre quite as squarely as other entries on this list (though there are plenty of horrifying moments), it's influence on the genre should not be neglected. Frankenstein is definitely one of the best sci-fi horror books of all times in it's own right.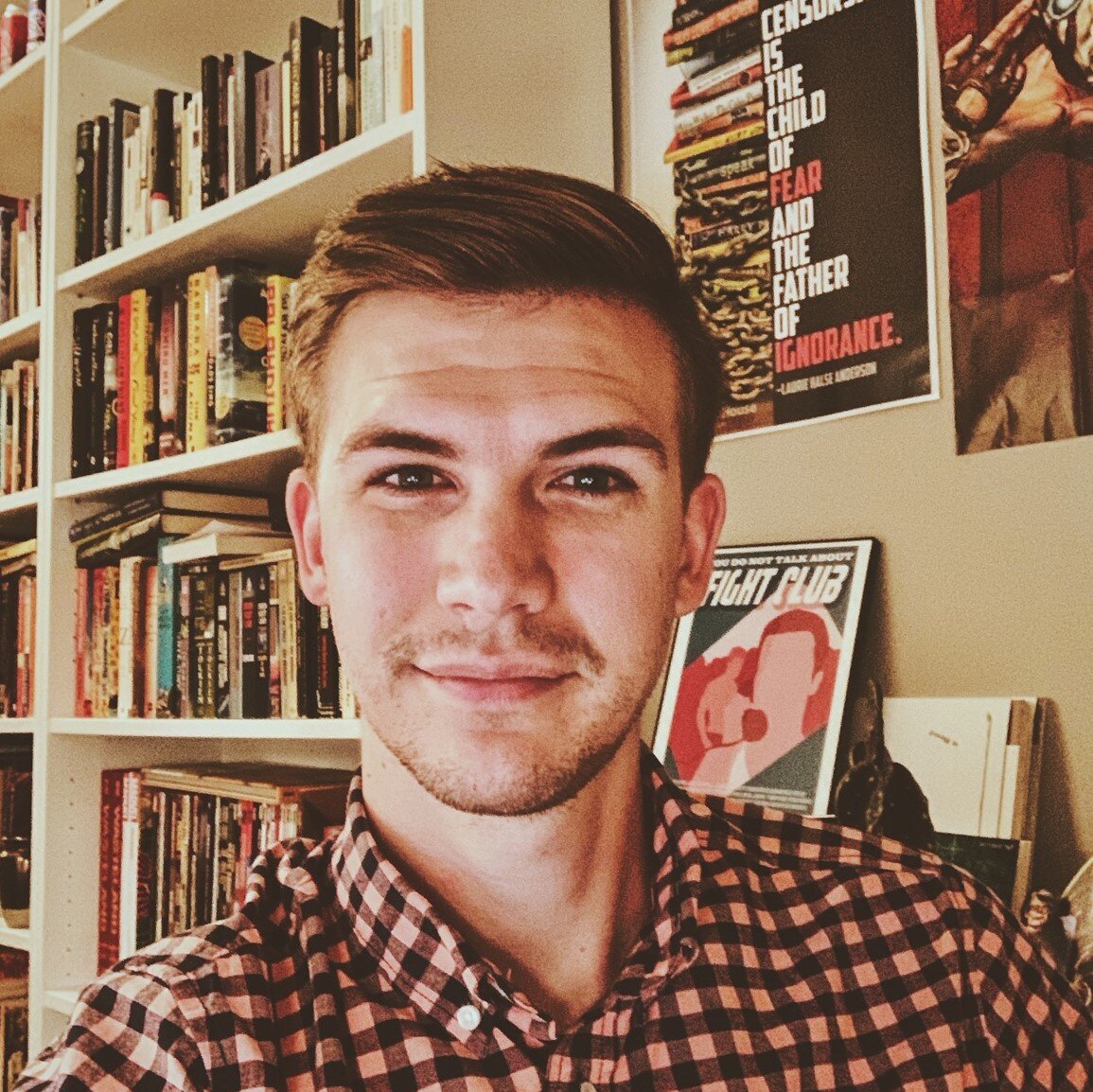 Ben's love for horror began at a young age when he devoured books like the Goosebumps series and the various scary stories of Alvin Schwartz. Growing up he spent an unholy amount of time binge watching horror films and staying up till the early hours of the morning playing games like Resident Evil and Silent Hill. Since then his love for the genre has only increased, expanding to include all manner of subgenres and mediums. He firmly believes in the power of horror to create an imaginative space for exploring our connection to each other and the universe, but he also appreciates the pure entertainment of B movies and splatterpunk fiction.
Nowadays you can find Ben hustling his skills as a freelance writer and editor. When he's not building his portfolio or spending time with his wife and two kids, he's immersing himself in his reading and writing. Though he loves horror in all forms, he has a particular penchant for indie authors and publishers. He is a proud supporter of the horror community and spends much of his free time reviewing and promoting the books/comics you need to be reading right now!