Ever since the show Wednesday debuted on Netflix in late 2022, it has experienced huge success, especially in the re-imagining of the character Wednesday Addams herself. Wednesday Addams has come a long way from her origins in Charles Addams's dark, yet humorous comics. To dress like Wednesday Addams you will first need to decide which look to follow.
From Lisa Loring's charismatic stage presence in the 1964 television show, Christina Ricci's reprisal of the role in 1991 and 1993, and now Jenna Ortega's 2022 Wednesday series on Netflix, we have seen this macabre and intelligent character grow from a mere child to a young adult. This makes this character age appropriate for children, teens, and adults.
In no small part due to the most recent re-invigoration of Wednesday's character on screen, her look has not only become a popular costume concept (again), but her character's style has become the trending look for Gen Z Goths everywhere. From her now-viral dance—you know the one—to her Gothic Prep casual style, it seems that everything she wears is uniquely representative of who she is.
Her modern interpretation, embodied by one of the genre's newer Scream Queens, Jenna Ortega, remains distinctive—even from that of the more traditional Wednesday renditions. Since we get to see Wednesday in so many different situations than we might otherwise not get to be acquainted with, there are so many new costume looks to choose from—so let's take a look and see how to transform ourselves into a modern Wednesday Addams without breaking the bank.
Updated Wednesday Throwback Look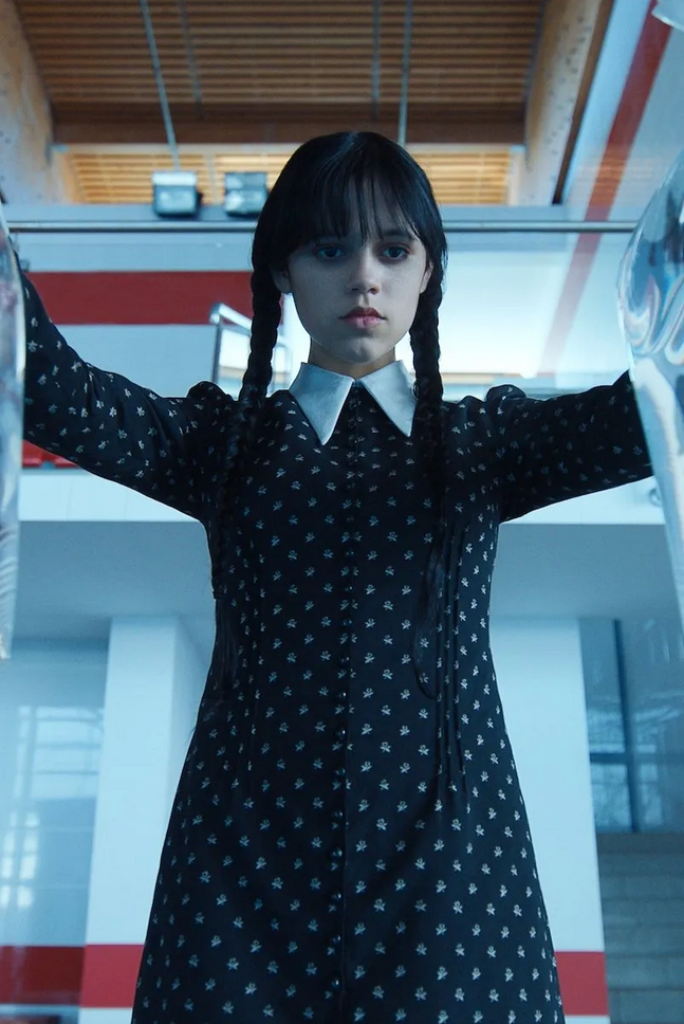 This particular look will probably be the most recognizable for those familiar with the original Wednesday as well as those who were introduced to the character for the first time with the 2022 Netflix series. It features a simple long-sleeved dress, either solid black or with minimal Gothic/Victorian floral print, a start white dress collar and cuffs. While the original Wednesday was more likely to be found in a pair of matte black flat Mary Janes, we've gotten an update to match the Goth trend appropriate to the time.
Nevermore Academy Uniform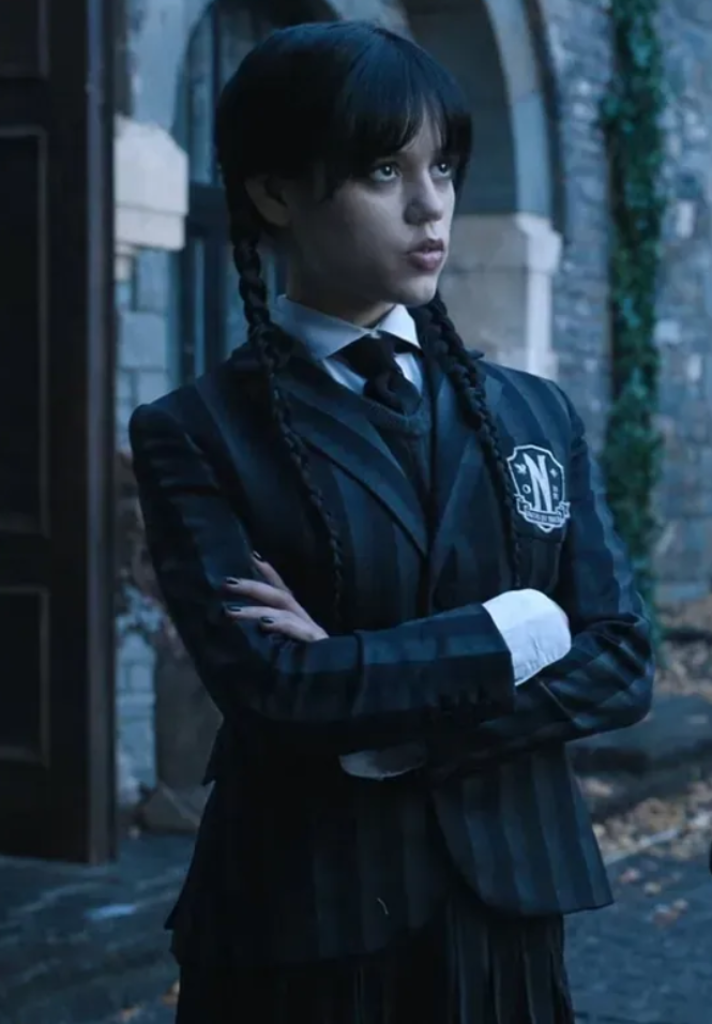 While every other student running around Nevermore Academy is dressed in two shades of blue, Wednesday's outfit is especially colorless, which decidedly makes her stand out amongst the rest of her peers. To dress like Wednesday in her Nevermore Academy Uniform you will need a few core pieces.
Casual and Comfy Clothes

When it comes to being casual, it's clear Wednesday seeks comfort while still adhering to her personal no-color policy. She favors the over-sized tops and opts for sneakers over dress shoes, but don't let this comfy look fool you—it's probably the most involved costume out of the bunch! Dress like Wednesday Addams comfy feel.
Formal Dance Dress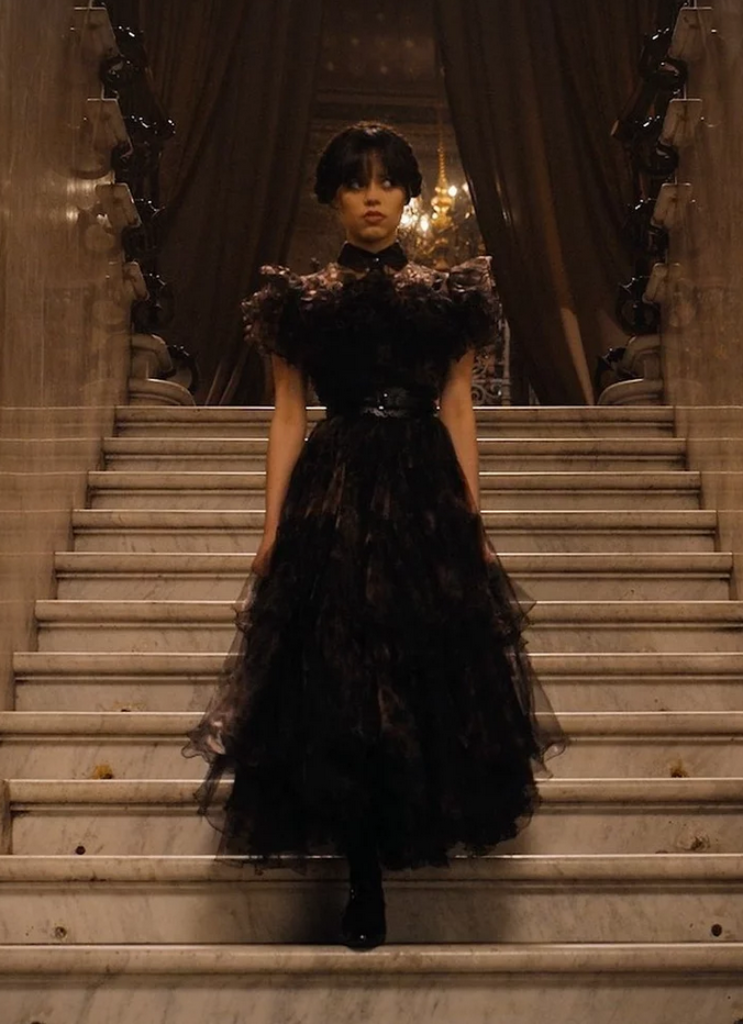 While the dress that Wednesday wears to the Annual Rave'n is from the Alaïa Fall 2020 collection, most high schoolers don't have four figures to drop on a dress to wear to prom. So, thankfully, there are already recreations of it within a reasonable price range. Surprisingly, considering the formal look of this costume, it's likely the easiest to pull off.
Regardless of which modern Wednesday look you choose to dress in, you'll need these to complete your transformation, down to the details.
We hope you have fun putting this costume together, but if you're looking for a more traditional Wednesday Addams look, consider checking out our article on how to dress like Wednesday Addams from The Addams Family (1991) and Addams Family Values (1993).

Georgia-based author and artist, Mary has been a horror aficionado since the mid-2000s. Originally a hobby artist and writer, she found her niche in the horror industry in late 2019 and hasn't looked back since. Mary's evolution into a horror expert allowed her to express herself truly for the first time in her life. Now, she prides herself on indulging in the stuff of nightmares.
Mary also moonlights as a content creator across multiple social media platforms—breaking down horror tropes on YouTube, as well as playing horror games and broadcasting live digital art sessions on Twitch.