Imagine the black and white pulp crime world of Dick Tracy mixed with the neo-noir of Frank Miller's Sin City. Now, add in a dash of occult magic and envision the love child of James Ellroy and Alan Moore, a genre-bending mashup of L.A. Confidential and Hellblazer. Starting to get the picture? If you love any of those genres as much as I do, then you will be head-over-heels for 2000AD's gritty detective graphic novel Hope…for the Future.
Puzzle Box Horror may earn a commission when you buy through links on our site.
In an alternate post-war 1940s Los Angeles, where occult forces are a fact of life, Mallory Hope is a private detective haunted by his past… and by the demon he works with. When a new case involving a missing boy reminds him of his own lost child, Hope is determined to find him. But he soon discovers all is not what it seems, with dark powers lurking behind the lights of Hollywood.
Our protagonist, John Mallory, is very much a John Constantine type: a hard boiled private investigator who's tuned into the magical world existing beneath everyday reality. He's a man on a mission, navigating the dark underbelly of 1940s Los Angeles with a dry wit and a grim disposition that makes him immediately likeable. He's rough and tough, and when given the option to run or double down he always chooses the latter (at one point shrugging and saying "It's been hours since my last beating"). But he's also compassionate – demonstrated when he risks his life to save a misfortunate child threatened by a gang of violent goons. I was invested in him from the very first page, his narration really helps to carry the story and give it the necessary exposition and snark.
In this story Hope is tasked with finding a young movie prodigy, a child star who has suddenly gone missing. His investigation will take him to various Hollywood locales, from glitzy film production studios to seedy underground clubs. Along the way we learn about his use of magical powers and how these supernatural interactions are slowly draining his life force. We learn about the enigmatic spirit he accidentally conjured, who wears a nun's habit and gas mask and feeds off his misery. And we learn, to my great excitement, that there is an overarching storyline about him tracking down the dark being who stole away his wife and son.
The writing of Guy Adams is on point here. Literally every single wistful, droll, and pessimistic line from Hope is gold. The story includes a good mix of drama, horror, and humor, and the core mystery of the missing boy would be compelling enough, but the added occult elements really elevate it. Inserting scenes of snake-tongued demons into a detective thriller plot is jarring, but in the best way possible. I definitely appreciate that magic is simply part of the story, and that it's the dynamic characters who drive the momentum. We get just enough backstory on Mallory to make him engaging, but there's suggestions of more intriguing reveals in the future.
And that art from Jimmy Broxton…wow. Normally, I'm a fan of vibrant colors in comics, but the black and white illustrations here just fit so superbly. They're grungy, gritty, and the art certainly feels like an homage to earlier horror/crime comics. I love the shading and stark contrasts, and how the style bends towards realism in the way the characters and settings are drawn. I also love how Broxton overlays swirling runes and symbols across the panels to let us know when magic is (literally) in the air.
This first volume, in my opinion, is a near perfect story. It's a horror crime thriller with a solid plot and great pacing, populated with wonderful character archetypes plucked from the supernatural noir genre that bred it. It has a self-contained storyline, but it expertly weaves in a larger plot and perfectly sets up the next book. At 66 pages it's a very quick read and it leaves you hungry for more. I absolutely cannot wait to join Mallory Hope's further adventures in the next volume!
Hope…for the Future is available now from 2000AD Comics
Advertisements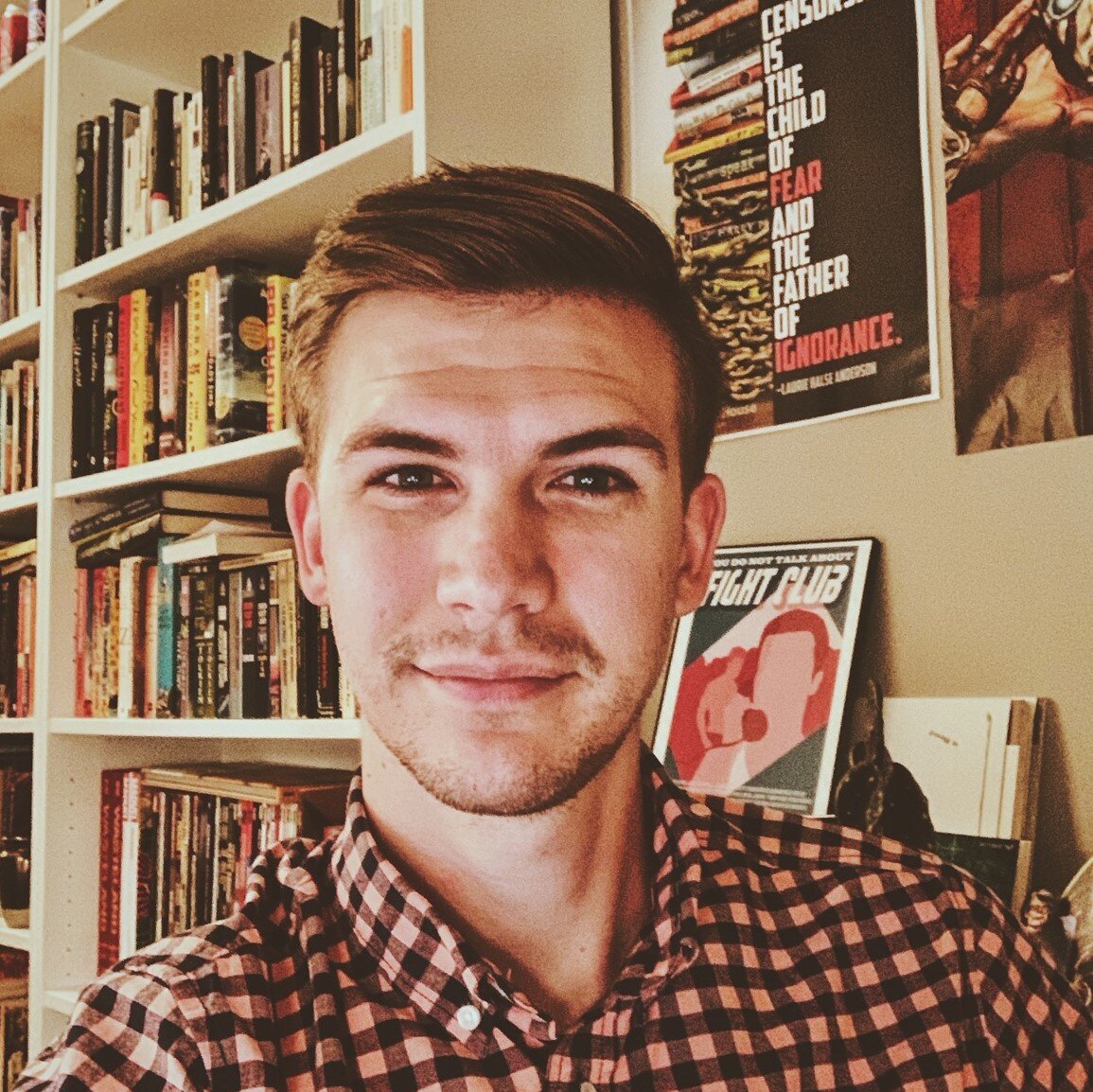 Ben's love for horror began at a young age when he devoured books like the Goosebumps series and the various scary stories of Alvin Schwartz. Growing up he spent an unholy amount of time binge watching horror films and staying up till the early hours of the morning playing games like Resident Evil and Silent Hill. Since then his love for the genre has only increased, expanding to include all manner of subgenres and mediums. He firmly believes in the power of horror to create an imaginative space for exploring our connection to each other and the universe, but he also appreciates the pure entertainment of B movies and splatterpunk fiction.
Nowadays you can find Ben hustling his skills as a freelance writer and editor. When he's not building his portfolio or spending time with his wife and two kids, he's immersing himself in his reading and writing. Though he loves horror in all forms, he has a particular penchant for indie authors and publishers. He is a proud supporter of the horror community and spends much of his free time reviewing and promoting the books/comics you need to be reading right now!