In the world of horror we've seen a lot of demon slayers: strong-willed priests, determined brothers, unassuming youngsters, and so on. But in terms of general concept, 13 Horsemen may be the first "biker gang versus demons" pitch I've ever come across. Take John Constantine, Sam and Dean Winchester, Ash Williams, and all your other favorite demon hunters and bedeck them in tattoos and leather. Then throw in a horde of blood-thirsty demons and a narrative jam-packed with action and suspense, and out comes this gloriously gory story of war between humans and the forces of Hell.
* Puzzle Box Horror may earn a commission when you buy through links on our site.
Readers are immediately thrown into the action with the biker gang (The 13 Horsemen) riding into a trailer park in pursuit of a demon leader named Corbin. It's clear the bikers have done this before, as they begin systemically blowing demons apart with guns and searching the trailers. The violence is relentless, brutal, and bloody. This opening scene also gives fair warning to the reader that though the Horsemen are a tough group, they aren't impervious to injury and death. It's a wonderfully chaotic start and really helps set the tone for the series as a whole.
As the story progresses it begins to fall into a rotating wheel of plot points: traps are sprung, our heroes are taken prisoner, a miraculous escape happens, and the cycle continues again. That's not to say there's anything wrong with a predictable set of events, and many TV shows and comics in this genre follow similar paths, but there aren't many major twists or surprises. Still, the stakes continue to rise and there is a forward momentum that keeps things tense and entertaining. Each rotation of the plot wheel brings James (leader of the gang) one step closer to finding the demon that killed his wife and child so many years ago. There's also plenty of great cliffhangers, both at the end of each issue and during the stories from one page to the next.
With thirteen-plus characters to focus on, it's no surprise that we don't get a lot of depth and background for our demon slayers. However, there are moments sprinkled throughout that help define their personalities and several hints at larger backstories. So even though you don't know their life histories, you still have a good sense of their relationships and motivations. The scarred and mysterious character they refer to as Father is particularly intriguing, and I'm very interested to see what his connection is to the demon army and story at large.
The demons themselves are quite the terrifying bunch: glowing red eyes, ghostly pale skin, and viciously sharp fangs. Most of the ones harassing our heroes are foot soldiers, though there are a few climactic moments where larger beasts are unleashed upon the group for epic battles. My only small complaint is that the demons are extremely similar in appearance and mannerisms to vampires. If I were shown images from this and 30 Days of Night I would have a hard time telling the difference. There's even a moment where a frightened police officer refers to them as vampires, so maybe it's intentional? Not a deal breaker by any means, just an element that was a little distracting.

Not only has author Nat Jones written a riveting and action packed story, but he's filled it with perfectly detailed illustrations and compelling colors. The art style is heavy on the sketching and light on the shading, enabling the coloring to play a major role. The extensive presence and multi varied shades of reds, oranges, and yellows do a good job of complimenting the action and drawing you into the fiery hell that has been unleashed upon the earth. Also the lettering by Janice Chiang functions as an exemplary model of how to weave onomatopoeia into tense fight scenes for dramatic effect.
13 Horsemen strikes just the right balance between dramatic tension and over-the-top bombastic violence. It's exactly the right tone needed for a story about warring bikers and demons, and it matches well with the frenetic pacing and gripping visuals. Despite a few shortcomings in plot repetition and conveniences, the reading experience was one of unbridled enthusiasm. There's plenty to relish here, and, as the ending would suggest, there may be plenty more demon fighting fun on its way. So grab your holy gun, hop on your Harley, and let's ride!
13 Horsemen is available now from Storm King Comics.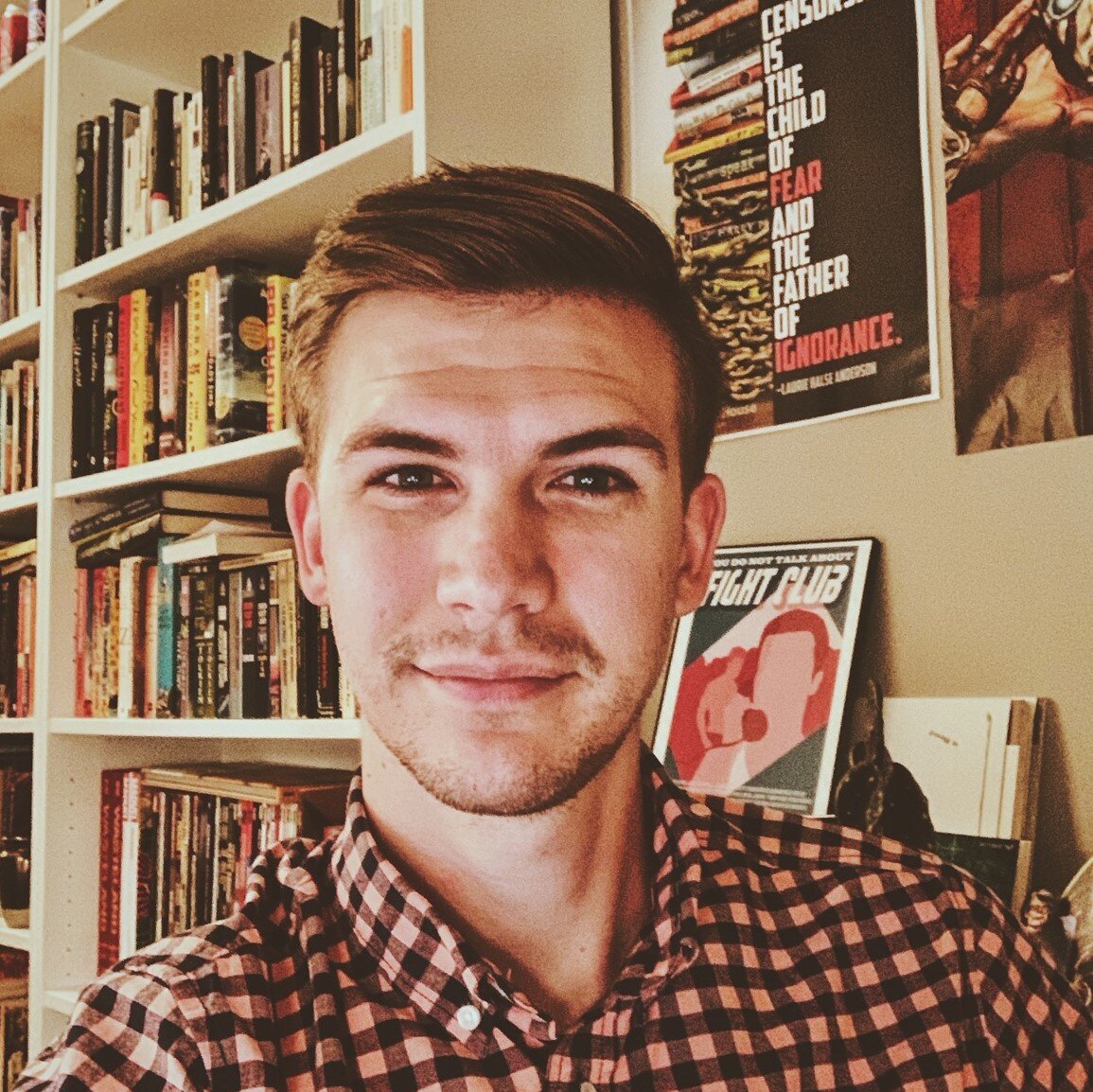 Ben's love for horror began at a young age when he devoured books like the Goosebumps series and the various scary stories of Alvin Schwartz. Growing up he spent an unholy amount of time binge watching horror films and staying up till the early hours of the morning playing games like Resident Evil and Silent Hill. Since then his love for the genre has only increased, expanding to include all manner of subgenres and mediums. He firmly believes in the power of horror to create an imaginative space for exploring our connection to each other and the universe, but he also appreciates the pure entertainment of B movies and splatterpunk fiction.
Nowadays you can find Ben hustling his skills as a freelance writer and editor. When he's not building his portfolio or spending time with his wife and two kids, he's immersing himself in his reading and writing. Though he loves horror in all forms, he has a particular penchant for indie authors and publishers. He is a proud supporter of the horror community and spends much of his free time reviewing and promoting the books/comics you need to be reading right now!