It was not the right place to build. Yet build they did. The family's name was Thompson, and
they had found a place to call their own. A plot of land that would become their home, a serene
nook to raise their children. Hard work had led them to purchase the land at a fair price, and so
they built the two-story structure that would house their family for years to come. And that was
how I was created. Initially.

I was nothing more than wood and nails. The Thompsons lived within and they were pleased.
For a time. But those below, the bones, they were not elated. I was nothing more than an altar
of desecration placed upon their sacred grounds, and those who lived inside defiled their place
of rest every moment of every day by their sheer presence. So, the bones, they reached to me,
and I was awoken. I knew then what I was. A violation of ancient rites. A molestation of holy
place. The bones, they gave me a way to fix all of this. These people must be gone, and so must
I. The bones must rest in the peace they so deserved. So began the torment of the Thompson
family.
Accidents were easy enough. The father fell down the stairs. A creak in the boards behind him
caused him to look back, and misstep. His neck broke from the fall, and the family mourned for
years. The pain that emanated from them only helped to make me stronger. Their youngest
daughter, now at the age of seventeen, found herself in the attic. I left her the rope, and
showed her the beam that would support her. She hung there for three days, before the family
found her. I had kept the door locked, for she looked so peaceful in her morbid sway that I did
not wish for it to end. It should have been enough death to convince the Thompsons of what
must be done. However, they remained..

Two more generations stubbornly persisted through what death and torment I could bring. I
tried a longer torture, of smaller cuts. Broken bones, burns from the stove, and windows that
shattered for no reason. Their children screamed in their beds as I played with the shadows
that fell upon their walls. I left what scars I could. Eventually, the last Thompson found himself
alone, and could not manage the courage to keep the family home. A "For Sale" sign was placed
in the front yard, and the Thompsons had left this place. I still remained, and that still
besmirched the land of the bones below.

Years passed. I sat, quietly brooding. Seasons changed and before decay could grip my
foundations, the Renaults arrived. They had made a purchase that would forever change them.
The bones were not pleased, so again they reached out to me and gave me something in their
benevolence. I was given the knowledge of the spirits that would haunt them when they
walked this land, and now those things would reside within me. I did not hold them back. I let
themselves be known. The Renaults were a family of four. A mother, a father, and two sons.
The sons were the first to see them. They appeared as large shadow men, with ungodly long
arms, dirty matted hair, and glowing red eyes. Brandishing their vile talons, they clawed at the
boys. Slashes and scratches marked their bodies, and their terror echoed through my halls. The
mother cried every night, and the father drank and shouted his profanities at me. If I could, I
would have laughed. The boys were driven mad, fear taking what they had been and turning
them into husks. Empty from the constant drain of the terror, one gave in and died in his sleep.
I shook, and rattled as hard as I could, and let loose the spirits upon the parents at last. Their
torment was short lived, as they fled my body in the middle of one raucous night and never
returned. The Renaults had left, yet I was still here, and the bones were dismayed.

It was a rather short time until the Halperns moved in. Was it ignorance or arrogance that
brought them here? I never thought to ask. I was tired, and so were the bones. This had gone
on too long. They had been residing here for no longer than a month before I decided to strike.
I took the initiative, and reached with whatever it was that I had, and I found in the distance an
evil lurking. Three of them, seeking blood. Seeking death. I called to them, and they came.
There had been five in the family of the Halperns before those men arrived. The slaughter
lasted only forty-five minutes. Blood splatters stained my walls, and I could taste what had been
wrought. The men did not leave after their crimes. I made them stay. Authorities arrived with
the cacophony of sirens and engines. A rude kick of my door aside, the police entered.
Gunshots rang out. The flashes from the muzzles seemed to paint my rooms with more gore
than ever before. One officer and the three men died. I now had nine fresh corpses decorating
my interior. Crimson hues of sorrow were now the focal point of every room. That was the last
time a family found this a fitting place to live.

I stand empty. Decaying. My windows are broken. Old police tape still covers my doorframe. On
occasion, some younglings come to fornicate and take their illicit substances. They come to face
their fears, or to show off for a brief courtship. No matter, once they enter, I leave them with
something to remind them of what I am. Bloody visions of the past, or their own hidden
phobias brought into reality. I can do so much now; all the death has fed me with a macabre
imagination. Their faces turn from courage to fear, and I revel in that. They leave in a panic,
some never speaking of the things they have seen. Still the bones are disappointed, and I am
disheartened. No one has heard the call to do what is right, to do what is necessary. I will strive
to bring about the justice those below have yearned for. I am the house built atop the bones,
and I must be destroyed.
Written by Doug Klein for Horror Bound
Follow Horror Bound on Twitter, Instagram and YouTube
Follow Doug Klein on Twitter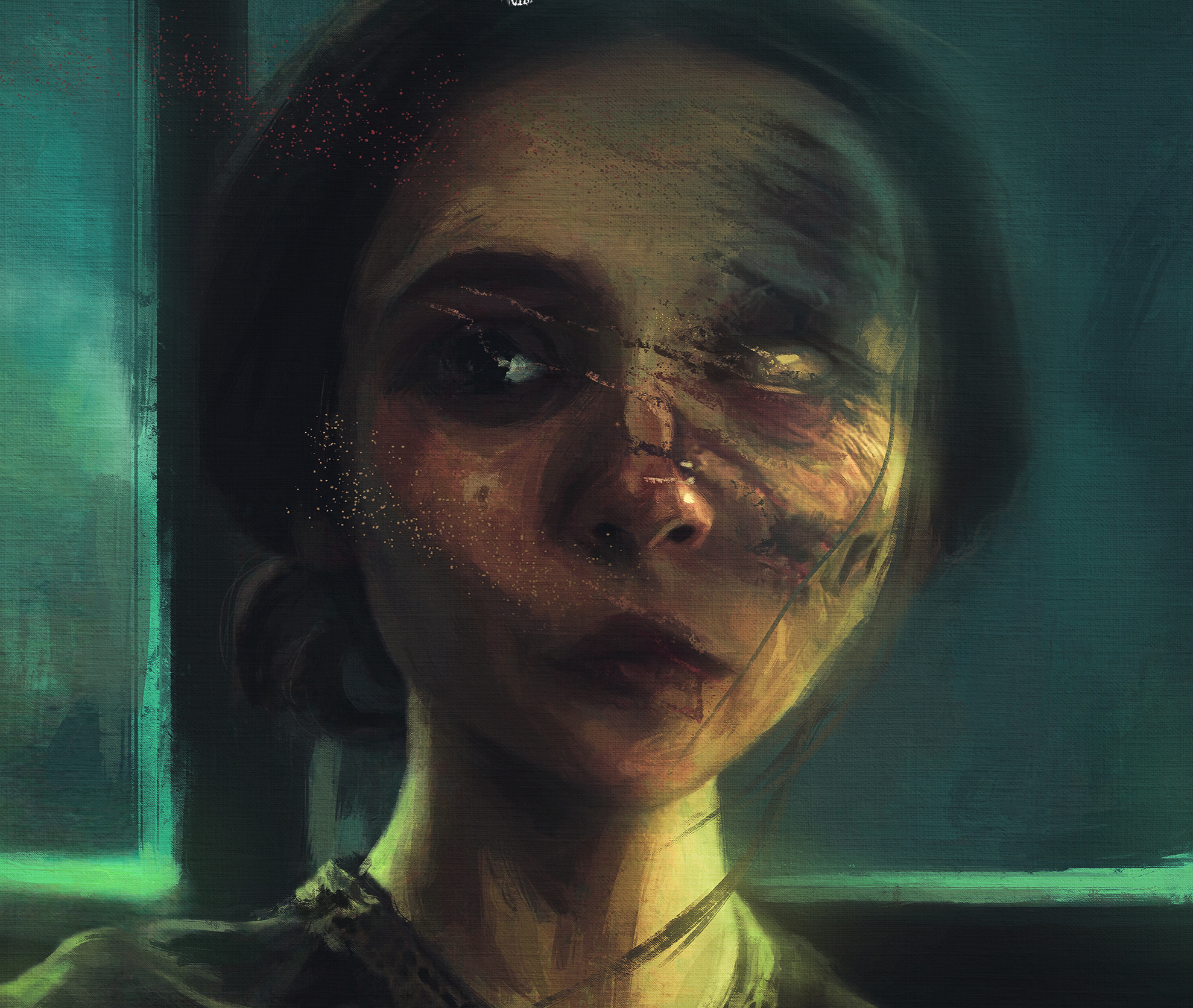 Tritone's love of horror and mystery began at a young age. Growing up in the 80's he got to see some of the greatest horror movies play out in the best of venues, the drive-in theater. That's when his obsession with the genre really began—but it wasn't just the movies, it was the games, the books, the comics, and the lore behind it all that really ignited his obsession. Tritone is a published author and continues to write and write about horror whenever possible.