"Come on… Come on!" The scent of electric smoke wafted up from the soldering iron on the circuit board as Larry hastily laid down bead after bead connecting the new resistor to the board. He knew if he did not get the power connected back to the ham radio that the signal would be lost forever and the passengers of the Cessna likely would be as well–at least they would be lost to him. He squinted through his thick coke bottle glasses and at five-foot-six his face just peaked over the magnifier on his father's workbench as he worked the soldering iron. "Yes! There we go…"
At seventeen-years-old, Larry was dually obsessed with his ham radio and science fiction; despite his mother's desperate plea for him to find a girlfriend and go out on dates, his preferred mistress was science and his deep desire to discover something heretofore unknown. His father, an electrical engineer, was indifferent to the struggle and disappointment his wife was enduring and instead encouraged his boy to follow his passions.
As a result of his passion-turned-obsession, the garage looked as if it were a Radio Shack fire sale. Wires of all gauges were organized according to size on the walls, circuit boards were haphazardly stacked on the workbench, and there were drawers of neatly organized resistors, capacitors, inductors, transformers, diodes, and transistors were all within the arm's reach. The noticeable hum of the fluorescent lights kicked on and it was a sound that had grown comforting to Larry–this was his space and in his opinion, there was nothing else like it in the world. Unlike the precarious hallways of his high school, where letter-jacket jocks regularly singled him out for hazing, he was in control in this space. In this place, anything was possible.
The world of technology in 1982 was mostly limited to pre-made kits and their assembly was predetermined by fine-tuned direction manuals–these had never been in Larry's wheelhouse. In truth, Larry's pride-and-joy was his ham radio and he spent countless late nights scanning the airwaves for signals, for proof that he could show-off to his friends. Just like his father, he had no love for athletics, he inherited his passion for electronics and radio signals through the bond he had formed with his dad. Due to his father's pursuits, they had a homemade dedicated high-frequency radio and antenna mounted on his roof that could reach as far north as Alaska given the right weather conditions.
Through countless hours of connecting to other Alaskan radio operators, Larry had acquired a deep knowledge of the wild country–it had quickly become one of his favorite locations to scan. Sometimes he was unfortunate enough to overhear the desperate calls from people far out in the bush begging for loved ones to return home after a death in the family, but aside from those depressing transmissions, he would listen to plane operators as they crossed the most dangerous passes in the unforgiving terrain. Quite often, as Larry learned, bush pilots would go down in the wilderness. The weather could change in the blink of an eye as the wind whipped off of the glaciers at breakneck speeds.
The wall next to the small desk where the radio sat boasted a large map of Alaska where Larry had pinned all of the locations he had isolated from coordinates of the pilots he had overheard through his transmissions. Over the past year, Larry had learned of what pilots and local Alaskans would refer to as the "Alaskan Triangle," much like its Bermudan counterpart, it was an area where an inordinate amount of disappearances took place. More than one dinner chat had ended with his mother sighing in exhaustion over the topic, then excusing herself as Larry continued to elaborate on the impact of negative energy fields. His father, still listening intently, would be captivated as Larry shared stories of the pilots he had overheard before they would simply go dark. Larry's father insisted that it was likely air conditions that had changed and interfered with the signal, but Larry stubbornly continued to compile his little red pins on the map of planes that he believed had disappeared–at least that's what he could gather in the communications and from the other radio operators who had far more experience with these things.
This time things felt different–it was around seven o'clock in the evening when he had started scanning the channels according to his usual evening routine. This transmission was coming from a twin Cessna, having left Anchorage and was en route to Juneau. That's just on the outer edge of the triangle, he thought to himself, but other than that initial gut reaction the transmissions sounded fairly standard despite some moderate to mildly unfavorable conditions. Larry assumed for an Alaska Bush pilot that was something along the lines of light snow, winds, and possibly some icing of the instrument panels–he overheard the pilot announce that things were going to be VFR until further notice and they had only been in the air for about a half-hour.
"Approximately one hour till touch down–," Larry heard the pilot buzz in over the radio, but what came next always made his stomach churn, "six souls on board."
The weather took a sudden turn for the worse, the pilot signaled he would be making an emergency landing at the short airstrip in the port town of Whittier, in an attempt to wait out the storm. The pilot must have not released the PTT, because Larry could overhear the pilot being verbally accosted by one of his passengers, it sounded something like–are you crazy? I need to be in Juneau now, campaign deals don't wait for the weather! The pilot didn't seem to pay much mind to what Larry had dubbed "the angry politician," or the other passengers who seemed to also be pressuring him to get them back into the air. With, what Larry assumed was, upstanding ethics, the pilot continued to note the change of flight plans over the radio. Larry could feel his brow scrunch together–he felt an almost sympathetic annoyance for the pilot, for his having to deal with such nasty attitudes.
Larry may have been slightly envious about the pilot's ability to fly–something he had always been oddly fascinated with, despite his proclivity for tracking plane crashes–what it must be like to be in control of a metal bird defying gravity in the most astounding way. Fifteen minutes after landing the plane, the pilot's voice buzzed back over the air. From what Larry could make out from between the crackling of the white noise and the pilot's voice, it seemed as if he was modifying their route further inland in hopes of avoiding the storm when they headed back up. I guess that guy won the argument–he sounded like a dick, he thought to himself.
He absentmindedly scanned the other channels, but there was nothing else coming in at all. From his experience in listening in on these fly-by-the-seat-of-their-pants pilots, that meant that no one else was crazy enough to fly tonight. That meant conditions in Alaska tonight must have been especially abhorrent, there weren't many times where the most experienced bush pilots doubted their ability to keep their birds in the air. Regardless of whether or not this particular pilot had the moxie to brave the skies, this plane was going up–and they were about to fly directly into the sea of red pins on Larry's map.
"Larry!" he heard his mother summon him, "it's time for dinner!" He hunched a bit deeper over his workbench and pressed his headset harder against his ears, unsure of whether he would be able to eat, knowing exactly where this pilot and his persistent passengers were headed. Through the buzzing white-noise and whirls, he heard his mother's high pitched call once again–no, I have to know–but when he heard her use his middle name, he knew that she would just get louder and angrier until he appeased her and god-help-him if he were to make her come get him herself. He'd be lucky to be back on his ham radio again for a month. Ok, ok, I'll just eat fast and get back here to try to get back on track with this Cessna.
Larry plowed through his hungry man TV dinner, a Wednesday night special at the Donahue's house, with barely a word. His father, pensive and deep in thought, barely noticed. His mother tried to make some small talk asking about school, friends, and of course hinting about girls. Larry placated her with the general, everything is fine, so he could get back to his radio. He dumped the remnants in the trash and tossed his used fork sloppily into the kitchen sink before he took off back to his sanctuary.
Once back in the garage he turned off the fluorescent lights, sat down at the desk with the warm glow of the radio and small table lamp then donned his white pioneer headphones and stretched the spiral cord to connect the ¼ inch jack to the silver radio. He felt like an astronaut ready for takeoff as his chest grew tight with excitement. Is this plane still up? He felt trepidation as he hunched over the radio and began to scan the range he had first found the plane in. Nothing. Just static. He switched over to 1145, a frequency that several other operators in Alaska frequented.
"This is Larryhue–come in–over." Again, there was nothing but static, "Larryhue–radio check–come in–over."
The frequency crackled, more white-noise, there was radio silence until, "Affirmative. Read you loud and clear," A familiar feminine voice buzzed in through the frequency. "Sharon145 here–how are you tonight? Over." Larry's heart quickened, there weren't many female radio operators and in his teenage daydream, he imagined her in that split second to be a young, beautiful redhead who admired intelligence over height. She sounded about his age, or at least she did in his fantasy image of her.
"Did you catch that Cessna out of ANC about an hour ago? Over."
"Affirmative. I can't believe they went back up," the radio crackled with her concerned tone, "I got a ping as they headed west, but they've been silent for about fifteen minutes now. I've been checking the other frequencies since–there's not another pilot in those skies, weather is too choppy. Over."
Larry was torn between continuing the back-and-forth with Sharon145–something he was all too fond of–and trying to chase the signal that he had caught from the Cessna. His curiosity over the mystery Cessna weighed heavily on him and trumped his desire to talk to what-he-imagined-was his dream girl. "Uhh–thanks Sharon, I'm going to change frequencies to see if I can catch the Cessna again. Stand by. Over."
"Wilco–Over that," Sharon's voice disappeared when Larry quickly turned the dial to scan for any signal from the Cessna. White-noise. Static. Silence. Larry huffed and continued to scan.
"MAYDAY! MAYDAY–This is White Cessna NOVEMBER-357-GOLF, VFR no longer viable–I repeat, zero visibility and high winds–RADIO CHECK–DO YOU READ ME? OVER." This sudden break in the static knocked the wind out of Larry, he could feel his palms break out in a sweat. "MAYDAY! MAYDAY! Left-engine faulty after mid-air collision–"
"WHAT WAS THAT?" Larry thought he heard the angry politician scream in the background.
"–IS ANYONE RECEIVING?" The urgency of the pilot's voice scared him, he was unsure of what to do, he had never been in this situation. "Flying blind–heading South-Southeast approximately fifty miles out of IEM. Requesting heading for emergency landing. Over."
A deafening silence followed the pilot's urgent pleas for help and then he heard the pilot repeat his message, the desperation overrode his professionalism. Larry sat there, his thumb hovering over the PTT, unsure if he should respond, get his dad, or wait to hear if there was an official response by flight control. He froze, his jaw slacked, and his vision blurred–he heard the third and fourth round of the message, each time the passengers could be overheard panicking in the background.
"Cessna NOVEMBER-357-GOLF–" Larry heard himself respond before he realized his mouth was even moving, "this is–uh–ham radio operator Larryhue. Go ahead. Over." Suddenly Larry felt as if he had never used a radio before in his life–what the hell am I doing? What am I supposed to say to this guy? I can't help him!
"Larryhue, we need to prepare for an emergency landing–need a heading," the pilot seemed to have relaxed if only slightly, but Larry was in full panic, he couldn't possibly be the only one listening in–he waited a moment, hoping beyond hope that flight control would take over the transmission. "Radio check! Larryhue–there's s-s-something outside of our plane, we need help, do you read me? Over."
"W-what's your bearing? Over," he was just a kid, but he remembered hearing that over the radio, or maybe it was in a movie. Either way, it felt like it was the right question to ask.
"No bearing, VFR until we hit a whiteout, I believe we're headed South-Southeast, but wind is knocking us off course."
"I think I see–," Larry heard another passenger's voice interject over the static of the transmitter, but instead of the sound of utter fear, it was one of awe, "what is that swirling mass of light–is that the aurora? Is the sky clearing up?"
"No, Senator Boggs–that's impossible," Larry heard the pilot respond to the interruption, he hadn't let go of the PTT. A blood-curdling screech echoed over the static into Larry's ears, and then a sickening crunch of metal, "what the fu–"
Larry stumbled back off of his stool, ripped his headphones off, and in the process pulled them out of the auxiliary jack completely. All he could hear now was a crackle from the radio, then what sounded like a faint plea for help.
"Crap, I am losing the signal," he said out loud. "Think Larry… Think." Then he got the idea to modify the radio. He quickly unplugged the radio, unscrewed the casing, and brought the board over to the workbench. He plugged in the soldering iron and began removing the resistor. He figured if he could amplify the power by adjusting resistance maybe he could catch the signal and at least find out where they were going to crash to send help. Larry expertly swapped the resistors, skipped re-attaching the case, and plugged the radio back in.
The radio lit back up, the light only slightly stronger than before. "Cessna are you there, this is Larryhue, over." Silence. Then a crackle. Then the ear-piercing shriek again.
"Help, we need help" cried out a terrified voice. The sound of wind rushing into the cabin made it evident that the pressurized cabin had been breached. "The pilot.. The pilot is dead. Something smashed through into the cabin and took off one of the wings! We're going down, please help!" The passenger sobbed, horrified, and hysterical.
"I'm going to call for help" Larry replied.
Then a calmer voice came over the radio that stopped Larry from getting up "We've stopped descending, I can't explain it, we're just level–we're–we're surrounded by light in what looks like a swirling mass of color."
"I think we are in the eye of the storm…" Then another loud crash, louder than before… Beeping… Screaming and a tremendous crash as if they hit another plane. Static.
"Cessna are you there, Cessna say again." Nothing. Radio silence and white-noise again. Five minutes passed by and there was still nothing, no transmission. There was just, nothing. Larry sat there, unblinking, and finally realized he needed his father, but he couldn't move. "DAD! HURRY… PLEASE!" He could barely choke out the words to explain what had happened when his father arrived, they sat there in silence and listened. Larry was grateful that his father believed him, he had heard what he had heard–it was real. He knew it was real.
After a short while, Larry's father told him to stay on the frequency while he called the authorities to report the transmission, but when his father returned the frequency was still eerily quiet aside from the normal ever-present static. After a few more hours, Larry sighed, his hands had finally stopped shaking and he stood from his stool. He picked up a red pin from the small bowl near his map and placed the pin with resignation in the location in which he believed the plane had gone down. When he stepped back and looked at the broader spectrum of his placed pins within the confines of the Alaskan triangle, it looked like it completed a symbol and it was almost familiar.
Over the next week, Larry scanned the papers for any news of a crashed plane–he even went so far as to call the Alaskan Aviation board, multiple times, but they had no new reports of missing planes. Then it hit him–the pilot had mentioned the name of that angry politician, what was his name? Baggs–something like that. Larry was resolved to find out and the next morning he called the operator, who knew his voice by that point. When Larry retold his story to the annoyed operator, he got a verbal lashing. "What do you think this is, kid? Some kind of joke? I've got a job to do here!"
"No–please, I know this sounds crazy, but I heard a name–Senator Baggs, or Boggs, or–"
The operator cut him off, laughing almost maniacally. "Ok kid–I'm done with you pulling my leg, so unless you've got a time machine, then this has been fun." CLICK. The line went dead.
Time machine? Larry was thoroughly confused, but he proceeded back to the library to go through the newspaper archives again, but this time he could narrow it down to Senator Boggs. Or was it Baggs? It took a few hours, but he found it. A headline about the mysterious disappearance of Senator Boggs. His airplane, a White Cessna, had gone missing in Alaska en route to Juneau from the port town of Whittier, but it was the date that made his mouth go dry. October 16, 1972. The plane was never found, but the Senator and the other five souls lost that day had long been assumed dead. It was impossible, but maybe it was just because his eyes were tired after three hours of searching–he rubbed his eyes and checked the date again, 1972. Ten years ago to the date, he had been hearing a decade-old signal.
Of course, when he told his father everything he had found, his father just shook his head, "that's just not possible Larry. You must have misheard him," and after that Larry gave up hope convincing his father about what he had heard. Maybe Sharon145 would believe him, after all, they had discussed the Alaskan Triangle more than once before and had passed some harmless conspiracy theories back and forth. It could be a vortex to a parallel universe, or an energy field that could displace time. Larry sat down on his stool in the garage and fired up the radio, but since he hadn't touched it in the last week, it was still tuned in to the channel from the Senator's plane.
"MAYDAY! MAYDAY–This is White Cessna NOVEMBER-357-GOLF, VFR no longer viable–I repeat, zero visibility and high winds–RADIO CHECK–DO YOU READ ME? OVER." There was a brief static-riddled pause. "MAYDAY! MAYDAY! Left-engine faulty after mid-air collision–"
"WHAT WAS THAT?" Larry heard the words echoing back to him again and his heart sank indeterminably, through his stomach, through his feet, through the floor–he clicked the radio off. He thought of the passengers in that plane, a ghost signal that echoed over and over again throughout time and space. An infinite loop of living in terror and he simply couldn't bear listening to it again.
Larry unplugged the radio, set it on one of the less cluttered shelves. He walked to the door that led back to the house, turned to look over his shoulder–the once comforting hum of the fluorescent lighting now made him feel as if his stomach was in a vice. Larry flicked the switch off, then closed the door behind him.
---
This story is based on the The Alaska Triangle and one its most famous unsolved disappearances – Senator Boggs Plane.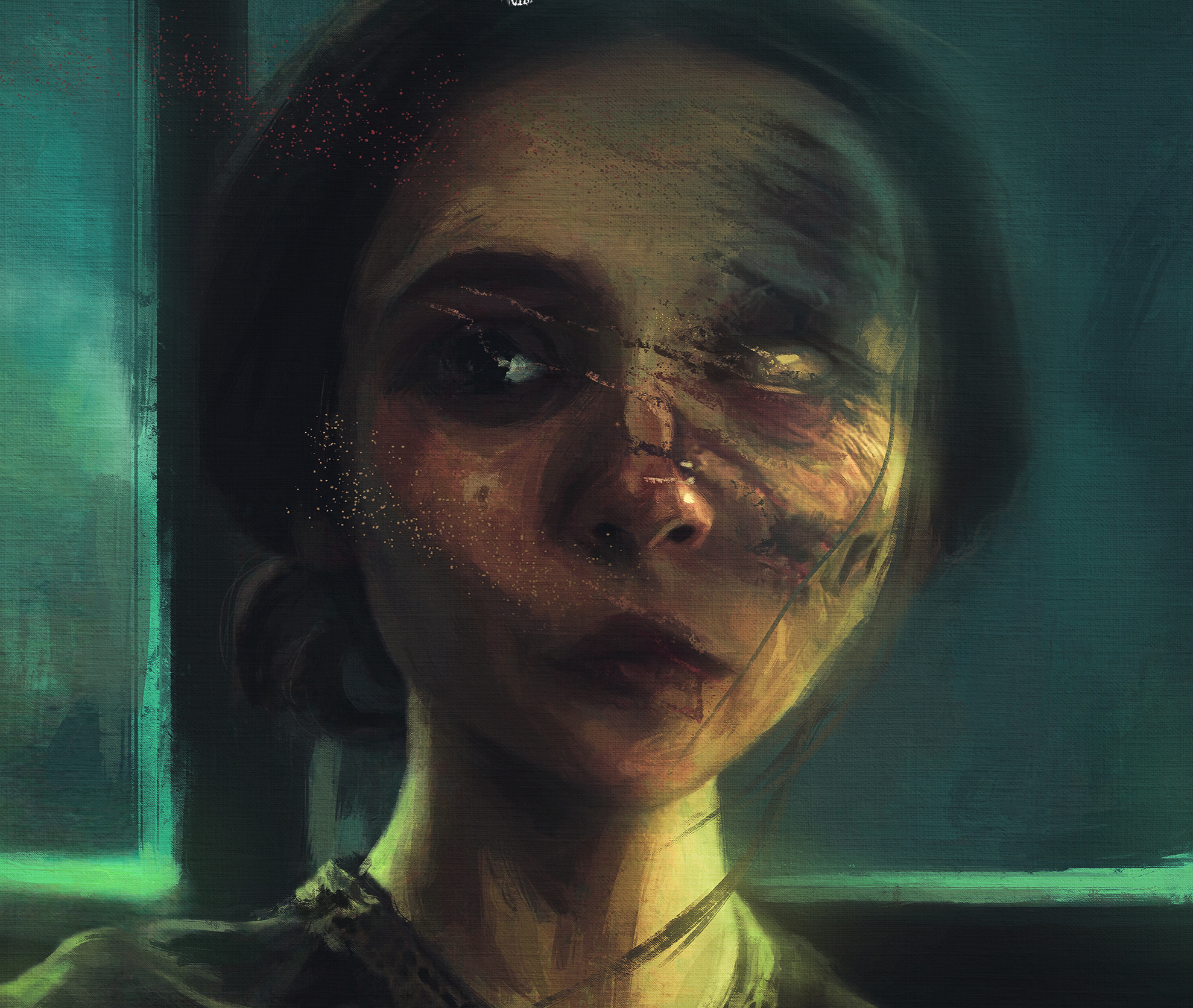 Tritone's love of horror and mystery began at a young age. Growing up in the 80's he got to see some of the greatest horror movies play out in the best of venues, the drive-in theater. That's when his obsession with the genre really began—but it wasn't just the movies, it was the games, the books, the comics, and the lore behind it all that really ignited his obsession. Tritone is a published author and continues to write and write about horror whenever possible.