Many of Richard Matheson's works went from page to screen pretty successfully–perhaps that's part of the reason why so many people are familiar with work that he originally penned, but are unaware of the source of the story. After such a long career, one might hope that people would come to recognize your name, but it didn't seem to bother Matheson, who seemed to only write for the love of writing.
The Films Based on Matheson's Novels
I Am Legend (1954) is Richard Matheson's most talked-about novel–it was such a success and inspiration to creatives everywhere that it was even adapted to film three separate times. The Last Man On Earth (1964), The Omega Man (1971), and I Am Legend (2007) all wonderful movies in their own right, just never seemed to capture the concept behind the original novel.
The Last Man On Earth (1964)
The dark tale of The Last Man On Earth takes place in a post-epidemic nightmare world, where a scientist by the name of Robert Morgan–played by Vincent Price–is the only man immune to a vampire plague which has transformed the entire population on Earth. This vampire society comes to fear Morgan, as he turns into a monster slayer. As a scientist, he studies the plague and ends up being able to cure one of them, by transfusing his blood into her. This upsets the vampire race and they end up killing him for what he has done to Ruth.
The Omega Man (1971)
Considered the second adaptation of I Am Legend to film, Charlton Heston plays Robert Neville, a man who is the only recipient of a serum that made him immune to the germ warfare between Russia and China. This caused him to be the only known normal human left alive and he lives in a gaudy, antique-decorated penthouse in Los Angeles where he roams the vacant city by day and fends off bloodthirsty (read: vampire) mutant scavengers. Eventually, Neville comes across a young group of healthy non-vampires, which destroys the idea of him being the last remaining normal human being.
I Am Legend (2007)

The third adaptation of Richard Matheson's I Am Legend, this attempt at the film follows Robert Neville–played by Will Smith–as the last man on Earth struggling to survive and fend off the infected victims of the vampiric plague. He's a brilliant scientist who is meant to find the cure to a highly contagious superbug–something he is inexplicably immune to, as we find out later in the film. By day, Neville searches high and low for supplies, sends out desperate radio messages with the hope to find other survivors, and by night he hunkers down in his fortress of a home while attempting to find the cure to the virus by using his own blood in experiments on vampires he has captured. The horde of vampires is more intelligent than Neville realizes, however, and they take vengeance upon him after he captures a vampire woman who the alpha vampire is bonded to.
The Legend of Hell House (1973)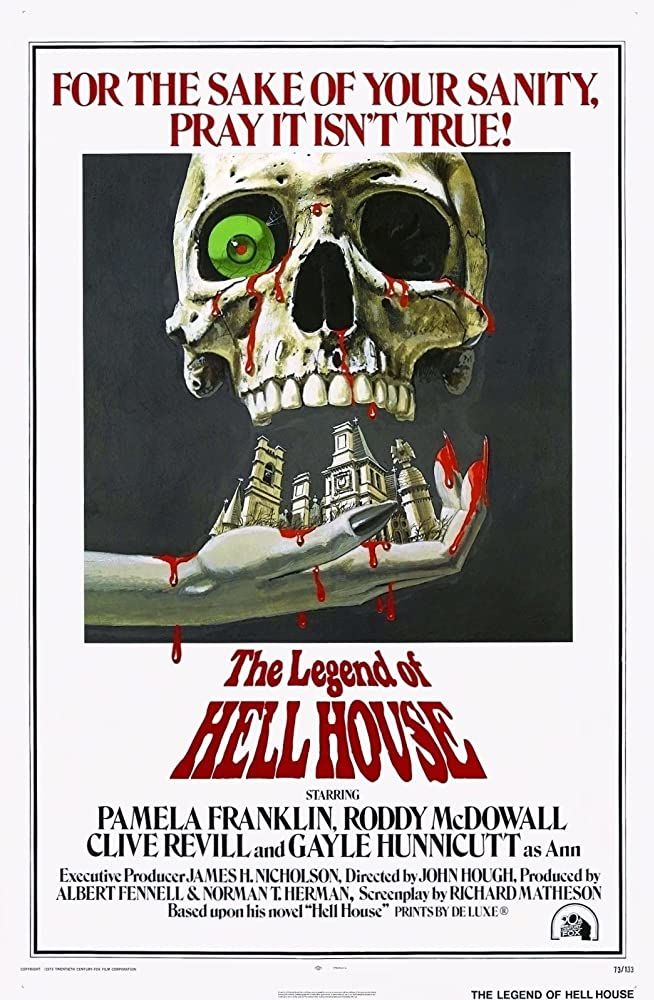 Adapted from Hell House by Matheson, into a screenplay by Matheson himself, four people with supposed extrasensory powers are hired to spend the weekend in a haunted house in order to gather evidence of the haunting.

Stir of Echoes (1999)

Tom Witzky lives a fairly normal life, he works in Chicago and lives with his wife and son, not believing in anything out of the ordinary. One night, while at a party, Tom and his sister-in-law, Lisa, get into a verbal debate about psychic communication and the power of hypnosis–he challenges Lisa to hypnotize him, so she does. She plants a post-hypnotic suggestion for Tom to be more open-minded and things begin to happen.
Television Shows Inspired by Matheson
Matheson wrote several screenplays, including sixteen episodes of The Twilight Zone, where he could simply pitch an idea and spur an entire episode.
Nightmare at 20,000 Feet (2002)

A salesman is traveling via plane after a recent nervous breakdown–after being told that he's recovered from his issues–while flying, he begins to believe he's seeing a monster climbing on the wing of the plane and damaging the engine. The only problem is, is that he's the only one who sees it.

Georgia-based author and artist, Mary has been a horror aficionado since the mid-2000s. Originally a hobby artist and writer, she found her niche in the horror industry in late 2019 and hasn't looked back since. Mary's evolution into a horror expert allowed her to express herself truly for the first time in her life. Now, she prides herself on indulging in the stuff of nightmares.
Mary also moonlights as a content creator across multiple social media platforms—breaking down horror tropes on YouTube, as well as playing horror games and broadcasting live digital art sessions on Twitch.