List of HorrorBooks that Became Famous Horror Movies
How Many Horror Movies Started As Books?
Many horror movies begin as novels or short stories of some kind. Some of them are more popular than others. There are horror movies which are nearly word-for-word scripted by the books. There are also movies that are only loosely based upon a true story. Whether it was loosely inspired, or a full-on contribution, novels which become horror movies have done pretty well in terms of creating a cult following and earning box office dollars. Most of the time, the books are even worth reading on their own!
Popular Books that Became Horror Movies
These are the most popular novels that became horror movies. Because it is impossible to rank these movies in terms of actual popularity, they are listed alphabetically.
1408 – Inspired by Stephen King
1408 is a very creative haunted house story. It stars John Cusack and Samuel L. Jackson. Cusack plays a depressed, alcohol horror novelist reviewing haunted hotels. 1408 is a special room in New York's Dolphin Hotel. The writer stays in the hotel room despite the many warnings from Jackson's character, the hotel manager. The write, and the audience, battles the psychological thriller throughout the night until the room permanently consumes the protagonist.
30 Days of Night – Inspired by Steve Niles
30 Days of Night is one of the best vampire movies ever made. The vampires have an "understood backstory," which explains them in an almost gypsie-like fashion. They travel to feed, visiting towns which experience authentic darkness for a month or longer. Although they have the typical vampire power to convert a human into a blood sucker, they typically prefer to violently kill their victims and
American Psycho – Inspired by Bret Easton Ellis
Christian Bale is an incredible actor who fully immerses himself into a role. American Psycho is a display of talent that exceeds the expectation of even a Bale performance! This movie became an instant cult classic, but still spawns from one of the most elegantly composed orchestras ever to grace paper.
The Amityville Horror – Inspired by Jay Anson
The Amityville Horror is a well-respected haunted house horror classic. The film focuses on the weakness of unsuspecting residence to fall to spiritual possession. The patriarch of the family is always possessed and forced to adhere to the murderous ways of the spirit who controls the house. The spirit encourages the possessed to kill their entire family.
Cabal – Inspired by Clive Barker
This movie was written about nightmarish city-dwelling monsters, a psychiatrist-serial killer, and overall horror despair.
Candyman – Inspired by Clive Barker
Candyman (1992) is about a knife-wielding (hook handed) killer who can be summoned by repeating his name five times in front of a mirror. It is a demonic possession-thriller that is the fear of any human being who has ever heard an urban legend involving a mirror. Clive Barker is responsible for this masterpiece.
Carrie – Inspired by Stephen King
Carrie (1976) and the remake (2013) are really popular horror classics. They were given a humble entrance to the horror scene by an early Stephen King. Carrie has always done very well, drawing so much positive feedback and a significant cult following.
Children of the Corn – Inspired by Stephen King
Out of all of the books Stephen King has written which have inspired movies, Children of the Corn (1984) is one of the most disturbing stories. The town which engulfs the protagonists is a small town, but only children live there. Though, they are all followers of a super sinister preacher. The couple realizes they are the feature on the children's sacrificial menu and they run for their lives.
Christine – Inspired by Stephen King
Christine is a scary movie about a car that takes on a life of its own. Unfortunately this vehicle has the personality of a murderer. It was a really popular movie in 1983 and has remained relevant even today. Christine got its start in another Stephen King book.
Cujo – Inspired by Stephen King
The 1981 terror known as Cujo showcases a horrifying experience of being hunted by a rabid St. Bernard. While many people would not find a dog particularly scary nor horror-worthy, Stephen King painted an excellent storyline for the insane canine killer.
The Dead Zone – Inspired by Stephen King
Christopher Walken plays a patient who awakens from a coma to find many years have eluded him. He also finds himself some new psychic abilities to play with.
The Devil's Advocate – Inspired by Andrew Neiderman
The Devil's Advocate is often considered one of the most perverse horror flicks to hit the big screen, even including some suggestive incest. Ultimately, it still built a very powerful cult following and performed very well at the box office. Keanu Reeves and Al Pacino pulled in the bacon and provided viewers a great rendition of Neiderman's novel.
Dracula – Inspired by Bram Stoker
Dracula (1992) is one of the most infamous, instant classics to ever grace the horror genre. This is one of the better historical-period horror movies.
Dreamcatcher – Inspired by Stephen King
Dreamcatcher (2001) is about an alien invasion and was written in cursive while King recovered from a car accident. It was also his 36th novel.
The Exorcist – Inspired by William Peter Blatty
The Exorcist (1973) may be one of the older movies on this list, however, it was scary then and it is still scary today! Blatty did an excellent job with cementing terror through time.
Firestarter – Inspired by Stephen King
Firestarter (1984) is about a couple whom submitted themselves to medical testing and give birth to a daughter with a special ability. The little girl (played by Drew Barrymore) can start fires with her mind.
Frankenstein – Inspired by Mary Wollstonecraft Shelley
Frankenstein (1931) is one of the most classic horror movies of all time. It is also the oldest movie on this list.
Hannibal – Inspired by Thomas Harris
Hannibal (2001) is the sequel to The Silence of the Lambs. The story tracks Dr. Hannibal Lecter after he escaped custody in Europe. Julianne Moore joins Anthony Hopkins to put author Thomas Harris' sequel to life on the big screen.
The Haunting of Hill House – Inspired by Shirley Jackson
The Haunting of Hill House is actually a novel which inspired multiple horror movies. The two most notable movies which based their storyline most closely to the book include The Haunting (1999) and House on Haunted Hill (1999). Jackson was truly a wicked good writer and a creative soul!
Hellraiser – Inspired by Clive Barker
Hellraiser (1987) was created after the Clive Barker novel The Hellbound Heart. It's a creepy film about a man who opens a portal to hell. The demons released are insanely disturbing. So is the reincarnation of a dead man who requires fresh blood to reconstruct his being.
I Know What You Did Last Summer – Inspired by Lois Duncan
I Know What You Did Last Summer (1997) rustled together an all-star cast including: Jennifer Love Hewitt, Ryan Phillippe, Sarah Michelle Gellar, and Freddie Prinze Jr.). The partying high school graduates accidentally hit a pedestrian with their car, creating a wild train of paranoia and suspense worthy of the horror industry. The original story is credited to Lois Duncan.
Interview With the Vampire – Inspired by Anne Rice
Interview With the Vampire (1994) is a period horror set in the 18th century. Tom Cruise and Brad Pitt put on an amazing show, all of which is being recorded by biographer Christian Slater.
Invasion of the Body Snatchers – Inspired by Jack Finney
Invasion of the Body Snatchers (1978) is another one of the older horror movies. Still, very thrilling and about a nearly unstoppable alien invasion.
IT – Inspired by Stephen King
The original IT from 1990 is technically a TV mini-series. It is an extreme psychological terror flick. However, the movie adaptation of 2017 takes Pennywise and evil to an entirely new level. The gore, blood, and killings are truly horrifying. The cinematic value is extremely well-done and the mental depravity is unruly.
Jaws – Inspired by Peter Benchley
Jaws (1975) was directed by Steven Spielberg and brought to life one of the most intimidating beasts of the sea: a mammoth-sized shark that haunts unsuspecting water-dwelling beach-goers and boat-riders. Before Jaws became an instant cult franchise classic, the original material came from the clever mind of Peter Benchley.
The Midnight Meat Train – Inspired by Clive Barker
The Midnight Meat Train (2008) is an interesting horror movie about photographer down on his luck who follows an organization onto one of the most bloodiest subway rides ever seen.
Misery – Inspired by Stephen King
Misery (1990) is another Stephen King inspired film to make the list. This movie highlights realistic horror. A nurse rescues a writer after a serious car accident and is revealed to be an obsessive lunatic.
The Mist – Inspired by Stephen King
The Mist (2007) is about a destructive storm that forces a family into town for supplies. Terror in the form of a mist surrounds the family when they enter a grocery store and they are forced to hole up. The true terror, however, was yet to come from the fog!
Pride and Prejudice and Zombies – Inspired by Seth Grahame-Smith
Grahame-Smith made this movie into a much more cinematic thriller than many of the other movies in the general genre. Still, the 2016 action-thriller still makes the list due to its obvious horror-oriented theme.
Psycho – Inspired by Robert Bloch
Psycho (1960) is one of the coolest ideas for a horror movie of its time. This is because it focuses on normal, everyday life and embraces a lot of realism. Norman Bates and his mother are in charge of a hotel which they use to terrorize and murder guests.
The Ring – Inspired by Koji Suzuki
The Ring (2002) left many moviegoers in shock and too scarred to ever watch another video cassette again. The movie crafts the idea that a simple videotape could invoke an evil that kills the viewer within 7 days. For a very long time, many people pranked one another, imitating the eerie phone call a viewer would get directly after watching the film. Thank you, Koji Suzuki, for this scary masterpiece!
Rosemary's Baby – Inspired by Ira Levin
Rosemary's Baby (1968) is another older flick that made the list. Levin does a wonderful job of painting the most horrifying picture about a mother who decides her baby is from another world.
The Shining – Inspired by Stephen King
The Shining (1980) is one of Jack Nicholson's finest performances. He was extremely immersive in his acting. The story of psychic premonition and suspense is carefully crafted. Jack's character is a writer who's writing dries up and forces him into mania.
The Silence of the Lambs – Inspired by Thomas Harris
No one can deny The Silence of the Lambs (1991) was not one of Anthony Hopkin's most realistic and disturbing performances. The movie follows a psychiatrist who hunts people and eats them. Yes, eats them. Thomas Harris is the writer who originally found this idea appealing, although, the cult following suggests he is not alone!
Something Wicked This Way Comes – Inspired by Ray Bradbury
Ray Bradbury is one of the most underrated authors of all time, however, his horror staples made a dent in the genre that will last forever. Something Wicked This Way Comes (1983) is about a terrifying carnival owner who preys on people having fun.
A Stir of Echoes – Inspired by Richard Mattheson
A Stir of Echoes (1999) is an incredible mystery-horror flick which follows a blue-collar worker (played by Kevin Bacon) throughout his newly found psychic lifestyle.
Last Words About Horror Novels
Many other books have also evolved into really great horror flicks as well. In fact, it is very rare for a film to draw no inspiration from any written content. Obviously, Stephen King has taken the largest chunk of the pie in terms of "novel to horror movie" genre, however, many other great authors have surfaced too. After all, fear is evolving, and it is only a matter of time before the next horror movie genius is born upon the pages!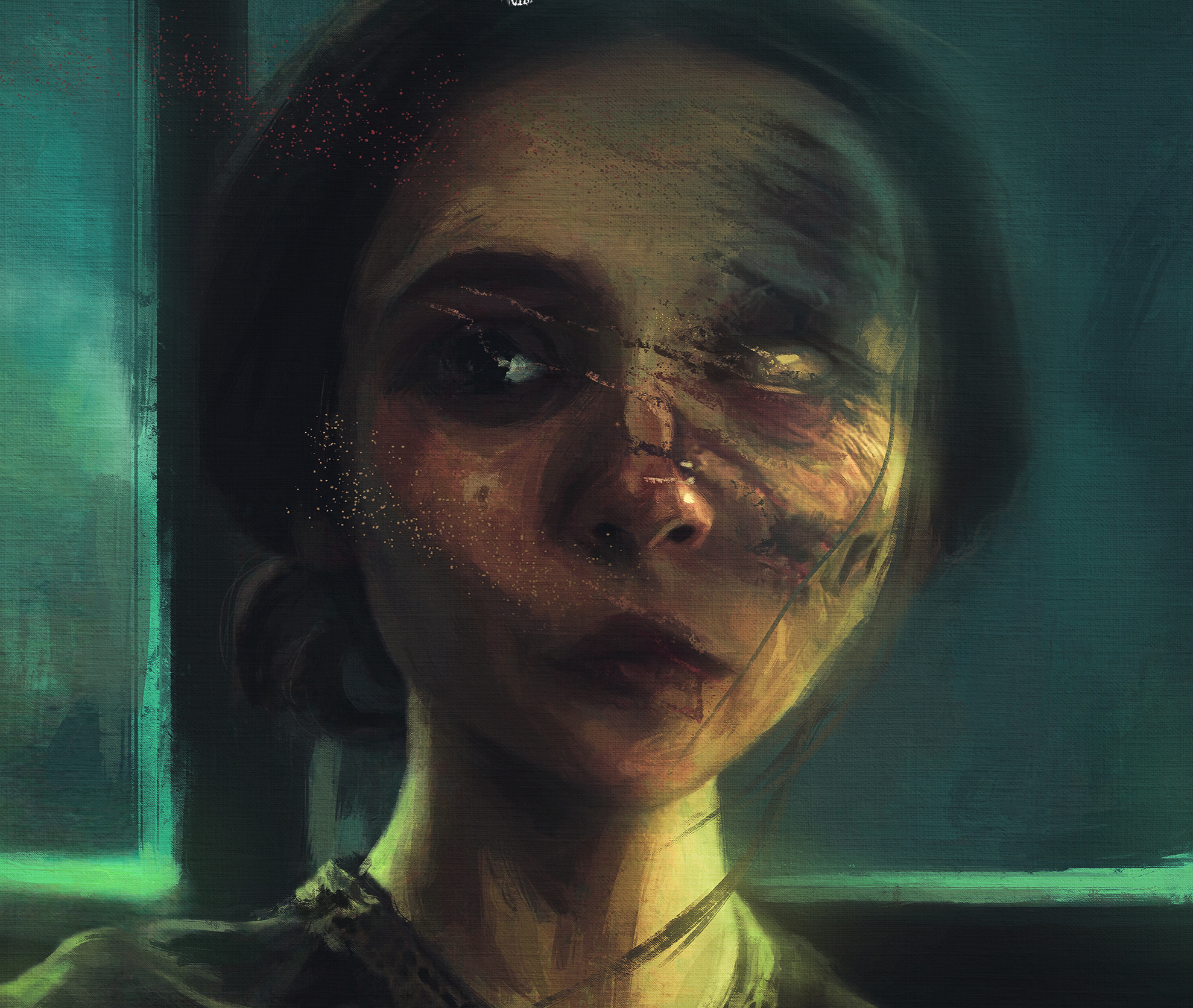 Tritone's love of horror and mystery began at a young age. Growing up in the 80's he got to see some of the greatest horror movies play out in the best of venues, the drive-in theater. That's when his obsession with the genre really began—but it wasn't just the movies, it was the games, the books, the comics, and the lore behind it all that really ignited his obsession. Tritone is a published author and continues to write and write about horror whenever possible.