Young Adult (YA) and horror are two genres that I have a lot of affection for, and so it stands to reason that a book combining both of those should be one I would truly enjoy. Of course you have your celebrated series such as Goosebumps and Scary Stories to Tell in the Dark, but it's been years since I've read those and I've been looking for something new. Enter the recent YA horror Jennifer Strange by Cat Scully.
Fifteen-year-old Jennifer Strange is the Sparrow, cursed with the ability to give ghosts and demonic spirits a body-a flesh and blood anchor in the mortal world-with the touch of her hand. When a ghost attacks her high school and awakens her powers, her father dumps her unceremoniously in the care of her estranged older sister Liz, leaving only his journal as an explanation. Drawn to the power of the Sparrow, the supernatural creatures preying on Savannah, Georgia will do anything to receive Jennifer's powerful gift. The sisters must learn to trust each other again and uncover the truth about their family history by deciphering their father's journal…because if they can't, Jennifer's uncontrolled power will rip apart the veil that separates the living from the dead.
Wow, I had SO much fun with this book! There's an element of mystery to it right from the beginning, but then it also turns fairly gruesome and horrifying very early on. It reads like a typical YA book, so I was actually caught off guard (in the best way) by the brutality and pulse-pounding scares of our protagonist's first major paranormal encounter. It's violent, it's instantly memorable, it lasts for three glorious chapters, and it instantly hooked me into the book. From that point on reading this was pure bliss.
I've seen this book compared to the Supernatural and Evil Dead franchises, and those are the two that really resonate with me (sorry, I never watched/read any Buffy). Much like the Winchester brothers, Jennifer and her older sister Liz were born into a demon-hunting family of sorts and are forced into taking on the family business as they search for their missing father. And much like the demons called forth from the Necronomicon, the spirits here are vicious, relentless, and feature a fair amount of gore and bodily fluids. I also liked that a paranormal attack (be it regular ghost, Wraith, Banshee, or something else) could literally come out of nowhere at any moment. Fortunately Scully balances this well with slower scenes and moments of character building, and the pacing works really well.
Puzzle Box Horror may earn a commission when you buy through links on our site.
Speaking of characters, I really like Jennifer as a main character (and I even grew to like her sister Liz). She's caught in a new world of surprises and is having to deal with some heavy discoveries while fighting for her life. Not only is she sympathetic and realistically detailed, but her struggle with her newfound power and its damning implications is incredibly compelling. I also liked the character Marcus, and I'm glad he was written with care and complexity. Unfortunately those three are the most fleshed out characters. We learn enough about the others, their personalities and motivations, to get their relation to the plot, but I wish they were given opportunities to be as dynamic as Jennifer, Liz, and Marcus.
The other thing that I didn't like as much is the ambiguity that floats in and out of the pages. I don't want to spoil too much, but the climax hinges around a series of events that, while epic and interesting in their telling, are overall a little confusing at times. And there are certainly pieces to the puzzle missing, though as this is the first in a trilogy I must presume they will begin to fall into place in later books.
Overall, I really enjoyed this book! I loved that it is set in Savannah, GA (the perfect place for a ghost story), I loved some of the twists and turns, I loved the variety of ghouls, and I loved the pacing, structure, and characters. Yep, lots to love here! I also thought it was really neat how the book splices in pages from their father's journal, including his diary entries and illustrations from their mother. Made for a cool dynamic to chunk the story and break things up. Jennifer Strange fits very well into the YA horror genre, and I think it's a story that both teens and adults will find worth reading!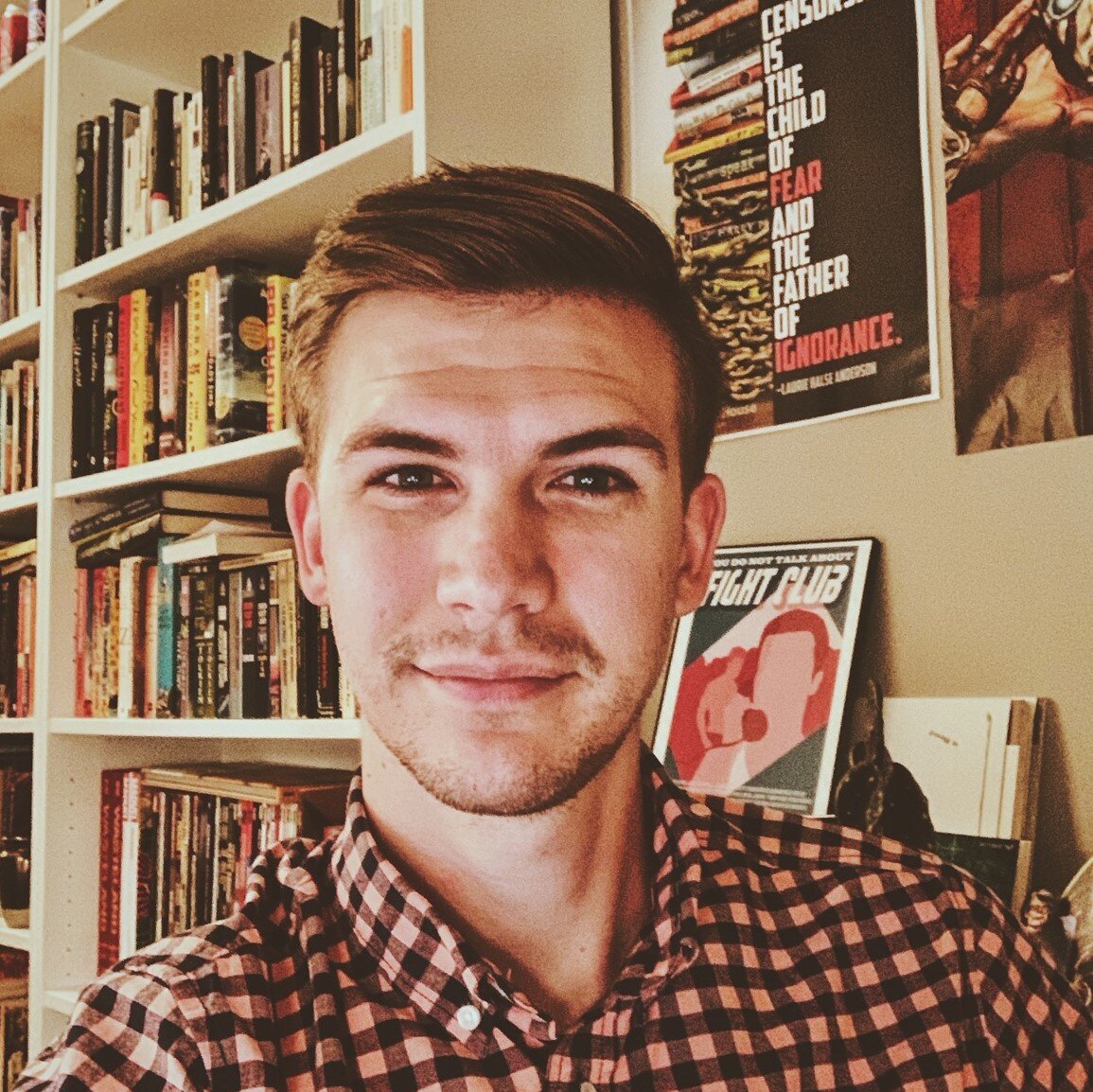 Ben's love for horror began at a young age when he devoured books like the Goosebumps series and the various scary stories of Alvin Schwartz. Growing up he spent an unholy amount of time binge watching horror films and staying up till the early hours of the morning playing games like Resident Evil and Silent Hill. Since then his love for the genre has only increased, expanding to include all manner of subgenres and mediums. He firmly believes in the power of horror to create an imaginative space for exploring our connection to each other and the universe, but he also appreciates the pure entertainment of B movies and splatterpunk fiction.
Nowadays you can find Ben hustling his skills as a freelance writer and editor. When he's not building his portfolio or spending time with his wife and two kids, he's immersing himself in his reading and writing. Though he loves horror in all forms, he has a particular penchant for indie authors and publishers. He is a proud supporter of the horror community and spends much of his free time reviewing and promoting the books/comics you need to be reading right now!