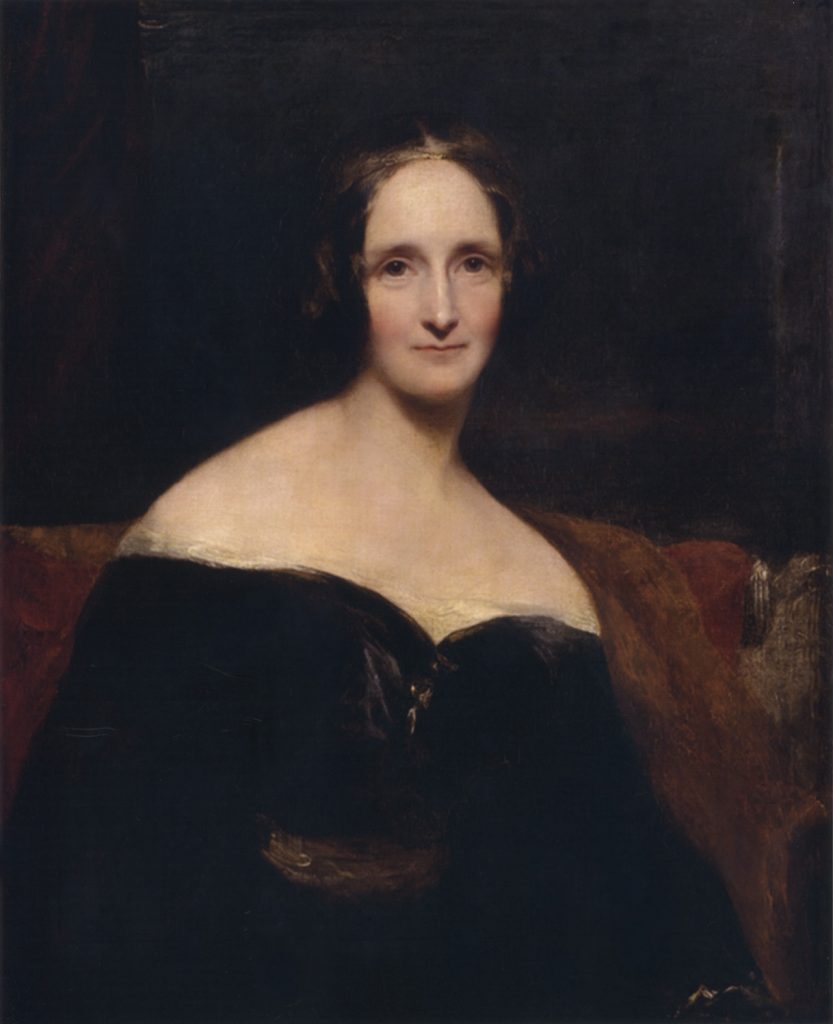 As the daughter of the brilliant feminist Mary Wollstonecraft Godwin as the reformist writer and philosopher William Godwin, Shelley is famously noted for her 1831 introduction to a reprint of Frankenstein. Her explanation that, "it is not singular that, as the daughter of two persons of distinguished literary celebrity, I should very early in life have thought of writing…" shows exactly how significant they were to her self-image.
The Liberating Feminine Voice of Horror
It is genuinely not surprising that the daughter of the renowned mother of the modern feminist movement was a feminist herself. Mary Shelley's life reflected by the inspiration she took from her mother's radically forward-thinking when it came to equality on the basis of sex. Her mother's best-known work, A Vindication of the Rights of Women, lived on through Shelley's own lifestyle and unstoppable life-force, but how did that translate into her own voice as an author? There is a lot of dialog between scholars as far as interpretations of her motivations behind the wonderfully disturbing work she created in her lifetime. Some suggest that Frankenstein is a horror story of maternity as much as it is about the perils of intellectual hubris.
From the time that Mary ran away with Percy Shelley all through the time she spent writing Frankenstein, Mary was going through maternal horror of her own—she was ceaselessly pregnant, confined, nursing, and then watching her first three children die at young ages. It doesn't help matters that Shelley's life was haunted by the fact that her mother died only ten days after Mary was born. Truth be told though, it was unsanitary practices by the attending physician, Dr. Poignand, and not through any fault of Shelley's. It was Puerperal Fever, caused by doctors moving directly from autopsies to births without any means of sanitation, that took Shelley's mother from her.
The tragedy of her mother's death so early on in her life influenced Shelley greatly and losing three of her own children just compounded upon her morbidity. She used this mindset to her advantage though and translated her message of what it felt like to be born without a right to history—for, "what is woman but man without a history…" as Sandra Gilbert and Susan Gubar stated in The Madwoman in the Attic. We can see Mary Shelley in Frankenstein's monster, as a creature born without a history, or at least without an unalterable or supported history. Both Shelley and Frankenstein's creation shared the feeling of being born without a soul, "as a thing, an other, a creature of the second sex,"—for being a woman in the time that Mary Shelley lived was to be a second-class human being.
A Symbol for Early Equality
Shelley can be considered a symbol for both feminism and equality of sexual orientation; a less discussed topic than anything else of her life, there is evidence that shows that Mary sought the company of women after her husband's death. This is an important topic to mention, as it is signifies the very secretive intimate history of homosexuality and how big of a part it actually played during the Romantic era.
Life From the Bed of a Grave
Writer Sandra Gilbert insists, that Mary Shelley's, "only real mother was a tombstone," but she didn't mean it figuratively—when Mary was a child, her father brought her to the churchyard where her mother was buried and she would continue to visit on her own after that. This became especially true when her father married their next-door-neighbor Mary Jane Clairmont, a woman who could never replace her own mother and who made Shelley's home life unbearable. In her earliest years, Shelley used, "reading … [as] an act of resurrection," due to feeling excluded from her father's household after his marriage. In a sense, it is said that she "read," or knew her family then determined her sense of self through her mother and father's literary works. She would endlessly study her mother's works during her younger years while sitting at her mother's graveside.
The burden of this type of childhood was also expressed through Mary's first work when she included a scene wherein Victor Frankenstein visits the cemetery where his father, brother, and bride were buried before leaving Geneva to search for the monstrosity that he had created. "As night approached, I found myself at the entrance of the cemetery … I entered it and approached the tomb which marked their graves … The spirits of the departed seemed to flit around, and to cast a shadow, which was felt but seen not, around the head of the mourner," where Victor ultimately calls for revenge against his creation, "O Night, and by the spirits that preside over thee, I swear to pursue the daemon … And I call on you, spirits of the dead; and on the wandering ministers of vengeance, to aid and conduct me in my work." Godwin passed on his idealization of books being a sort of host for the dead, that to read a book by a departed author would be to know them entirely. Then again, Godwin was also fiercely interested in communicating with the dead, another trait that he passed to his daughter through that fateful visit to her mother's grave.
[The dead] still have their place, where we may visit them, and where, if we dwell in a composed and a quiet spirit, we shall not fail to be conscious of their presence.

William Godwin, Literary Tourism, And the Work of Necromanticism
Necromantic Preoccupations of Her Father
Like father, like daughter; Shelley picked up her father's proclivity for intrigue in the dead. Godwin often tried to connect his readers to the dead by encouraging the placement of illustrious graves. In his eyes, such a grave would honor them in their place of rest and give both the deceased and their mourners a way to stay on speaking terms, of sorts. He even expressed his desire to do so himself in quite an illustrated manner, when he said, "[he] would have [the dead] … around [his] path, and around [his] bed, and not allow [himself] to hold a more frequent intercourse with the living, than with the good departed." He meant this of course as a means of conveying his desire to communicate with the dear ones he had lost in his lifetime and not in a sexual context.
The Morbidity of Her Truest Love
Mary may have strayed from that viewpoint in a way, after she was introduced to an impassioned devotee of her father's, Percy Shelley. The two spent much of their time together at the grave of Mary's mother, where her father likely believed they were conversing about their reformist ideals. The truth lay a bit beyond that, however, as it was by her mother's grave that she lost her virginity and pledged herself at sixteen to a twenty-year-old Percy. While it may seem creepy, to Mary the cemetery was more than just a resting place for the dead, she saw it as a place where all of life converged for her.
Learning all of this about Shelley definitely brings us some clarity on how she possessed the wit and imagination to create two new genres within literature—that of Science-Fiction horror, along with the brilliance of the first Apocalyptic Dystopian styles.
Index of Sources

Georgia-based author and artist, Mary has been a horror aficionado since the mid-2000s. Originally a hobby artist and writer, she found her niche in the horror industry in late 2019 and hasn't looked back since. Mary's evolution into a horror expert allowed her to express herself truly for the first time in her life. Now, she prides herself on indulging in the stuff of nightmares.
Mary also moonlights as a content creator across multiple social media platforms—breaking down horror tropes on YouTube, as well as playing horror games and broadcasting live digital art sessions on Twitch.