Women don't get a lot of credit in any field that they may excel in, so why should the world of literature be any different? While, they get recognized by their peers, how many of you can name more than a handful of famous female horror authors off the top of your head? It's unfortunate that most can't, to say the least, but that's something that we plan to remedy here today.
While we are asserting that all of the writers listed here are horror writers, a lot of these amazing women have actually produced written work that is outside of the horror genre–or, even more astoundingly, their main genre of work may not even be horror.
Mary Shelley
(08/30/1797 – 02/01/1851)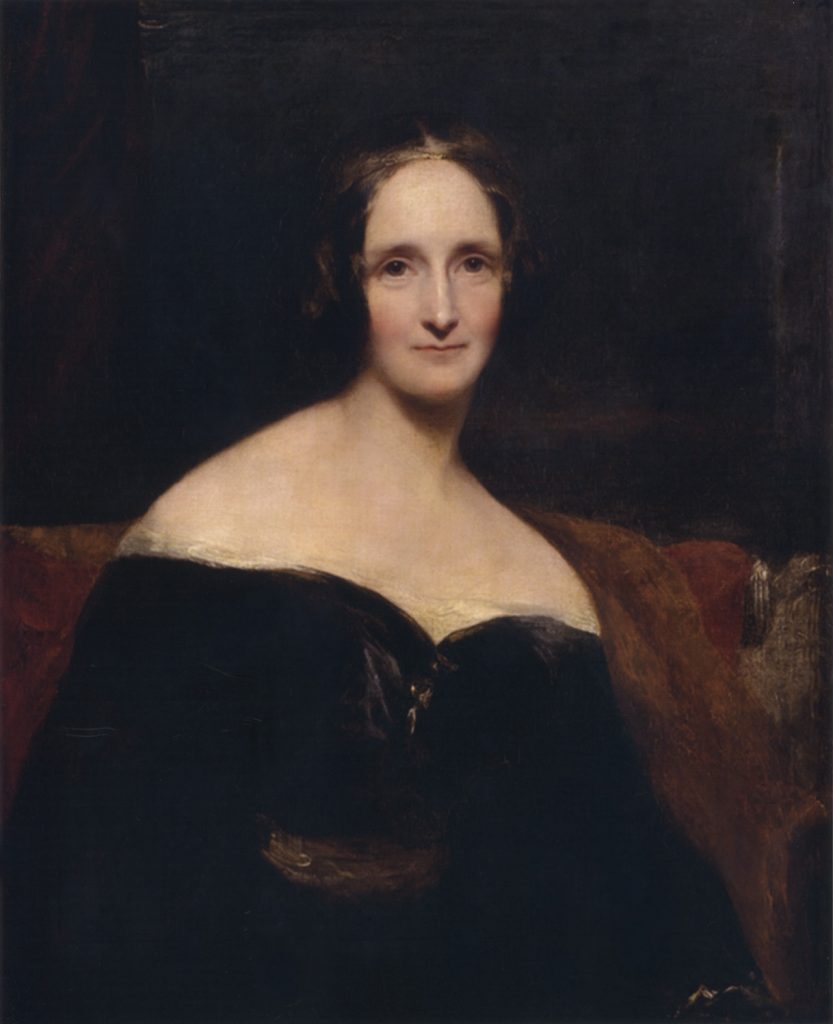 Born Mary Wollstonecraft Godwin, Shelley is best known for her novel Frankenstein (1818) which is quite widely cited as the very first Science Fiction horror novel. Unfortunately, her career wasn't quite as prolific as some modern writers, but her work seems to have been more about quality, rather than quantity. Unsurprisingly she wasn't the first writer within the horror genre, but she was the first female horror writer and she did invent two completely different subgenres of horror. I do find it rather nice though, that all of her works are within the public domain and can be enjoyed by anyone who wishes to read her Gothic-styled genius.
Check out our coverage of Mary Shelley in her Dead Author Dedication we did earlier this year.
---
Daphne Du Maurier
(05/13/1907 – 04/19/1989)

Daphne Du Maurier has generally been classed as a romantic novelist, but the stories she produced in her lifetime have been described as "moody and resonant," and most if not all of them have paranormal and supernatural overtones. Critics never gave her a fair shot when her bestselling works were first published, but her exceptional talent with her voice in narrative changed their minds and earned her a persistently unparalleled reputation.
A few of her novels have been adapted into films—quite successfully in fact, including Rebecca (1938), adapted by Alfred Hitchcock to film in 1940—which starts off as such an innocent romance, but quickly turns into a story with such a haunting atmosphere, you can't be sure if it's a ghost story, or one of subterfuge. Don't even get us started on his adaptation of her novel The Birds (1952) which was released in 1963!
Some Books to Read by Du Maurier
Jamaica Inn (1936)
Rebecca (1938)
My Cousin Rachel (1951)
The Birds (1952)
Not After Midnight and Other Stories (1971)
Unfortunately, we haven't covered the life and times of Daphne Du Maurier as of yet, but believe us when we say that her style of writing is phenomenal–actually, don't believe us, read some of them and decide for yourself! Since we've been trying to cover a single dead author per month, in memoriam during the month in which they passed, we won't be visiting the life and achievements of Daphene Du Maurier in full until April of 2021.
---
Shirley Jackson
(12/14/1916 – 08/08/1965)

Shirley Jackson is one of those writers that the weird, dark, and haunted can thoroughly relate to–personally, I believe that she is the one writer I can relate to the most. Not because she was insanely talented–I'm not self-centered enough to believe I rank on her level–it's because she never made an attempt to pretend that she was in any way normal and I mean that in complete admiration.
If you're interested in learning more about Shirley Jackson, take a look at the articles we did to honor her for August's Dead Author Dedication:
---
Lois Duncan
(04/28/1934 – 06/15/2016)

Lois Duncan made a name for herself by writing for young adults–those transitioning from childhood to adulthood, who needed a voice to relate to that would help them understand what it was like to have to evolve into a responsible human being, even under the worst of circumstances. As a horror writer for the young and the young-at-heart, Duncan left a legacy, not only for her readers, but for those who were inspired to follow in her footsteps.
She paved the way for writers and creatives to finally be able to appeal to the younger audiences who, otherwise would only have had adult horror to turn to–because, let's be honest, those among us who love horror now have loved horror for a long time and if it hadn't been for Duncan's books we might not have had age-appropriate content for our nerdy dark brains to dive into.
You can learn more about Lois Duncan through our exploration of her life, literary achievements, and legacy–Puzzle Box Horror style, in our Dead Author Dedication in July 2020.
---
Anne Rice
(10/04/1941 – Present)

She is a best-selling American author and having sold nearly 100 million copies of her books, is one of the most widely read authors in modern history. World-renowned, among her works the most well-known are the Vampire Chronicles, where she demonstrates her ability to convey love, death, immortality, existentialism, as well as the human condition under the umbrella of the gothic horror genre. One thing is certain, aside from Mary Shelley, Rice is possibly the most popular female author on this list!
---
Octavia E. Butler
(06/22/1947 – 02/24/2006)

Butler started her writing career in her twenties after studying at several universities and she blended elements of science fiction and African American spiritualism in her novels. Her first book, Patternmaster (1976) which would kick start her first series of books. It wouldn't be her last series, however, as she continued to write and publish books up until her death in February of 2006. Although Butler was better known to be an author of science fiction, she often incorporated elements of our favorite genre, horror. Her most horror-inspired novel was published just a year before her death and told the story of a girl who discovers she's a vampire. Often hailed as a genius, Butler worked to address racism from her vantage point as a writer and exposed the horrors of oppression in American history. When talking about one of her most popular books, she explained that, "[she] wanted to write a novel that would make others feel the history: the pain and fear that black people have had to live through in order to endure."
Join us in February of 2021, for when we honor Butler's contribution to horror.
---
Kathe Koja
(01/06/1960 – Present)

As a writer, director, and independent producer, Kathe Koja is a multiple platform powerhouse of a woman—her talent allows her to work within several different genres, from Young Adult, to contemporary, to historical, as well as horror fiction genres. Several of her novels have won awards and have also been translated into multiple different languages and her work has also been optioned for film and performance pieces.
---
Caitlín R. Kiernan
(05/26/1964 – Present)

As an Irish-born American, Caitlín R. Kiernan is a published paleontologist and author of both science fiction and dark/horror fantasy. An accomplished author in her own right, Kiernan has published ten novels, a series of comic books, and over two hundred fifty short stories, novellas, and vignettes—for all of her hard work she has received both the World Fantasy and Bram Stoker awards twice!
---
Tananarive Due
(01/05/1966 – Present)

Tananarive is an all-around wonder when it comes to the horror community, not only is she an award-winning author, she also teaches about Black Horror and Afrofuturism at the University of California Los Angeles. But wait, there's more—as a prominent figure in black speculative fiction over the last twenty years, she and her husband collaborated to write "A Small Town" for the second season of the reboot of The Twilight Zone. This is by no means a complete biography for Due but we hope it's enough to interest you in her incredible literature and work for equality as she helps to educate in the exclusionary history of not just American history, but horror history.
To get better acquainted with Tananarive Due, check out her official website and the upcoming article we have dedicated to her work in horror.
For a more in-depth look at the history of horror and the role that black people have historically played within the genre, keep an eye out for Shudder's Horror Noire: A History of Black Horror. Tananarive Due is listed as an executive producer for this highly anticipated documentary and it's coming out in February 2021, just in time for Black History month!
---
Gemma Files
(04/04/1968 – Present)

London-born, Gemma Files is a Canadian horror writer, journalist, and film critic—but she had quite a meager start as a freelance writer until she landed a continuing gig with an entertainment periodical called Eye Weekly. It was this position that led to her gaining local traction, as she began critiquing horror, independent, and Canadian films. In 1999 Gemma won the International Horror Guild Award for Best Short Story, with The Emperor's Old Bones. Since then, five of her short stories have been adapted to television for The Hunger series. She's been nominated for countless awards, including the Shirley Jackson Award in 2009 and 2010 for a short story and novelette respectively.
---
Jemiah Jefferson
(01/01/1972 – Present)

Another elegant African American horror author, Jemiah Jefferson toes the line between horror and erotica through her gift to horror-loving women everywhere—her Voice of the Blood series about the famous creatures of the night has been called "smart, beautiful, sexy, and vicious." (I'm not going to lie, I may have purchased all four of them the very same day I discovered her.) Jemiah has a lot more to offer in the way of novels and short stories, however, and we're exceptionally excited to share her with you all.
---
Helen Olajumoke Oyeyemi
(12/10/1984 – Present)

Oyeyemi and her writing are equally unique, her writing transcends any genre that attempts to confine or define her, so the best way we can describe her work is a blend of horror, fantasy, fairy tales, and folklore. While not a dedicated horror writer, her work is often unsettling (just the way we like it), frightening, and she often explores the paranormal, bizarre, and supernatural elements of fiction. When she was a young woman, just twenty years of age, she published her first novel The Icarus Girl (2005), which mixed the paranormal with Gothic horror themes and Nigerian folklore. In 2009, her novel White is For Witching, was published and is considered one of the great modern cosmic horror novels—we personally loved it!
---
Kat Howard
(09/14/19** – Present)

As a modern-day writer in a genre dominated by a more masculine influence, Kat Howard is a refreshing change of pace–since the best writing is when you are allowed to immerse yourself in the story and are otherwise unaware of the writer's gender, skin color, sexuality, or how they otherwise identify themselves.
We were lucky enough to be able to speak to Kat Howard recently—so, check out the interview that we did with Kat Howard, where she speaks about her novel The End of the Sentence (2014), horror, and what it's like to be a writer. You can check out that interview here if you'd like to know more!
You can find out a bit more about her on her official website, kathowardbooks.com and you can also follow her on twitter!
---
We reserve the right to update this list in the future to further represent female writers of the horror genre that we may currently be unfamiliar with–an exclusion of an amazing female horror author here only means that we have yet to be introduced to her work! Let us know if you believe someone should be included here!

Georgia-based author and artist, Mary has been a horror aficionado since the mid-2000s. Originally a hobby artist and writer, she found her niche in the horror industry in late 2019 and hasn't looked back since. Mary's evolution into a horror expert allowed her to express herself truly for the first time in her life. Now, she prides herself on indulging in the stuff of nightmares.
Mary also moonlights as a content creator across multiple social media platforms—breaking down horror tropes on YouTube, as well as playing horror games and broadcasting live digital art sessions on Twitch.