Intense cold. Darkness. Isolation.
Many successful horror stories have at least one, if not all three, of those factors playing a major role in their plots. Though such inhospitable elements make for terrifying environments in fiction, there are many people in the world thriving in such places as Alaska.
In our quest to find the best horror across the nation, Puzzle Box has made it to The Last Frontier. A land of ice and snow, full of untamed wilderness and ancient lore. Here, seemingly tucked away from the rest of the country, we have sought out several authors who hone their craft amidst what many would consider to be a desolate landscape. Yet these writers find their surroundings actually help spark their imagination and inspiration. So without further ado, allow us to introduce the Alaskan horror authors you need to be reading.
Jamey Bradbury
Jamey Bradbury is the author of The Wild Inside, from William Morrow (2018). Her work has appeared in Black Warrior Review (winner of the annual fiction contest), Spark + Echo, Sou'wester, and Zone 3. She won an Estelle Campbell Memorial Award from the National Society of Arts and Letters. Jamey has an MFA from the University of North Carolina Greensboro. She lives in Anchorage, Alaska.
1. Tell me a bit about yourself and what got you started in horror writing?
I have always loved being scared, since the days I entertained myself through boring sermons at church by reading the book of Revelation and scaring myself with images of unholy beasts and rivers of blood. But my grandmother was a huge storyteller–and if she was in the right mood, she would tell me about the spirits she saw and the premonitions she had. As a girl, she had encountered a handful of ghosts, and hearing about these incidents thrilled my spooky little brain. From early on, I liked making up my own stories; it's no wonder, with Grandma whispering spooky tales in my ear, that I tended toward the scary.
I was never a Goosebumps kid, but I loved the middle grade novels of Betty Ren Wright, especially Christina's Ghost and The Dollhouse Murders. Those were my doorway into stuff like Stephen King, Ray Bradbury, and Harlan Ellison, the way the old black-and-white Universal horror movies became a doorway to The Thing, Poltergeist, and Nightmare on Elm Street.
Once, a friend of mine who can't do horror asked why I loved horror movies and books so much. I honestly think the attraction is all about heightened emotion for me–that, and I love the way horror allows me to talk about and explore big feelings and ideas in really tangible ways. The metaphors horror offers makes it easier and more accessible to deal with topics that might otherwise feel too scary to come at directly.
2. We talk to a fair amount of new writers. What tips would you give yourself if you could go back to when you started based on what you know now?
Maybe this is the boring answer, but I think I'd go back and tell my younger self to learn more about the business of writing. Students in MFA programs and writing workshops spend thousands of hours talking about craft and structure and all the things that theoretically will help them write something that will someday be published–but no one ever talks about what comes after that, or how to make good decisions about publication, or any of the hundred other things you encounter when you're trying to find an audience for your work. I think this is something more programs should spend time on.
When it comes to writing process, though, I'd say trust your process. It's interesting and somewhat helpful to read about how other writers tackle their drafts, and I can daydream all I want about how easy it must be for plotters to whip out a perfect, polished draft in one take–but the truth is, writing is never easy for anyone (not even for plotters), and in the end, what works for me is what works for me. I can't copy anyone else's process; I had to figure out what works for me, and learn to trust that.
3. Has living in Alaska influenced your writing at all?
Alaska has been a huge influence on my writing. Strangely, it was only when I left Alaska for a time that I found myself really drawn to writing about it. While I was away, first in North Carolina to get my MFA, and then later, living in Vermont, I discovered how much I missed Alaska, and pretty quickly resolved to go back as soon as I could; in the meantime, I started writing about the landscape I was longing for. That quickly became my first novel, The Wild Inside.
I think Alaska offers a perfect setting for horror. The endless dark, cold winters are an obvious backdrop for spooky stuff, but the glaring sunlight and long, sleepless summer nights offer their own sort of disorienting atmosphere. There's a lot of space up here, a lot of land to get lost–or to lose yourself–in. I can't go for a hike without thinking about all the different kinds of terrors that could befall a person alone in the woods or on the mountainside. Maybe that's just my freaky brain, but I think that in addition to being one of the most beautiful places on earth, Alaska is also one of the most inspiring–and one of the scariest.
As a bonus, it's also just a great place for a writer to live. I absolutely love the long winter and the way I can curl up like a hibernating bear in my house and completely focus on whatever I'm working on.



4. What are your top three favorite horror books?
Top three favorite horror books – at least for the moment!
Hex by Thomas Olde Heuvelt. Truly the creepiest book I've read in quite a few years–so creepy, that I read it a second time within just a few months (not something I normally do)–and not only did the book hold up, it was even better the second time. The town of Black Spring, New York is held hostage by the ghost of a witch who was executed by the townspeople centuries earlier; no Black Spring citizen can leave town without becoming suicidal. A group of teens sets out to expose the ghost on the internet–but things quickly backfire on them. Possibly the scariest aspect of the book, especially for writers: Thomas Olde Heuvelt wrote the book in Dutch, set in Belgium, then rewrote the entire thing in English and moved the action to New York, to better appeal to American audiences.
My Best Friend's Exorcism by Grady Hendrix. For all the '80s babies out there, Grady Hendrix's tale of demonic possession among teenage girls is a nostalgic trip back to one of my favorite eras of horror. This is one that makes me laugh and cry as much as it scares me–and it's such a great portrait of female friendship, especially that heady, dramatic, love-hate that can happen between teenage girls.
Ghost Summer by Tananarive Due. A short story collection by a master of the genre, Ghost Summer is like a collection of precious, cursed jewels. Each story reveals layers of complexity with simple, elegant language that also manages to get at both real and supernatural fears that live deep within the characters.
If you're interested in learning more about Jamey Bradbury, check out her website at www.jameybradbury.com. You can also follow the author on Twitter (@JameyBradbury), Instagram (@jameybee), and Goodreads (@Jamey_Bradbury). Finally, to purchase books check out the author on Amazon.
---
DM Shephard

DM Shephard pulled up anchor at 18 and joined the Navy to escape a small town in the Mojave desert. Through many twists and turns she made her way north to Alaska. She came for a job, but stayed for the adventure. When she's not playing with live electricity, she's out exploring what Alaska has to offer, or hanging out at her off-grid cabin near the tiny community of Chicken with her husband Ray. She blends together her experiences in STEM into her own brand of Suspense, Horror, and Romance.
1. Tell me a bit about yourself and what got you started in horror writing?
I grew up in Victorville, CA, a small town in the Mojave Desert, that has been the setting for many horror and sci-fi movies over the years. One of the most influential for me was the 1977 version of The Hills Have Eyes. Michael Berryman, who played Pluto actually came and did a talk at my school when I was a kid. From Dusk Til Dawn (1996) was also shot in my hometown, along with Breakdown (Kurt Russell, 1997). I liked to concoct stories based on the local legends in the desert. I joined the Navy's Nuclear Power Program and went forth seeking adventure. Unfortunately, a diagnosis of MS cut my dreams of becoming a super-spy short. So I became a super electrical engineer. Through many twists and turns, I made my way north and got a job in one of the toughest environments on earth, Prudhoe Bay. My husband and I are now trying to turn 30 acres of Alaska wilderness into an off-grid non-profit, Fortymile STEAM Foundation.

2. We talk to a fair amount of new writers. What tips would you give yourself if you could go back to when you started based on what you know now?
My writing has improved greatly over the years. And I read as much as I write. The best advice I can offer is to sit down and write it. You can't edit a blank page. What you write initially is going to suck. I look back at my earliest writing and think how that is terrible. But that's okay. It's far better than agonizing over everything and never getting the story down on paper. Write now, edit later.
3. Has living in Alaska influenced your writing at all?
Alaska has greatly influenced my writing. I moved to Alaska in 2007 for a job, but stayed for the adventure. My Dark Land series that I am currently self publishing is based on Athabascan Legends and experiences that my husband and I have had in the backcountry of Wrangell-St. Elias National Park. I am also querying a gothic horror based on the Klondike Gold Rush set in Dawson City. I have several Blog posts on both.
http://dmshepard.com/alaskan-writing-inspiration/
http://dmshepard.com/getting-there-is-half-the-adventure-my-trip-into-wrangell-st-elias-national-park-in-the-name-of-writing-research/
http://dmshepard.com/the-ghosts-of-the-palace-grand-theater/



4. What are your top three favorite horror books?
Three favorites? Tough call, since I love reading. Tie between The Stand and Carrie by Stephen King. You by Caroline Kepnes. For non-fiction, The Great Mortality (about the Black Plague in 1348).
If you're interested in learning more about DM Shephard, check out her website at http://dmshepard.com//. You can also follow the author on Twitter (@dmshepard13) and Goodreads (@D_M_Shepard). Finally, to purchase books check out the author on Amazon.
---
Mary Farnstrom

Mary Farnstrom has been a freelance writer and illustrator for over a decade, with a focus on the horror genre. She is currently finishing her dual degree at the University of Alaska Fairbanks while writing for Puzzle Box Horror and creating the image for her own brand as well.
1. Tell me a bit about yourself and what got you started in horror writing?
I grew up in Southern California, but moved to Alaska when I was twenty-seven, which means this August I'll have lived here for five years. I have loved the horror genre and surrounding culture ever since I was traumatized by Child's Play (1988) at the age of three (maybe four?). I've always loved writing and was lucky to have a lot of my teachers throughout my youth encourage me to pursue it.
The road to a higher education for me has been incredibly long, but mostly because I spent a lot of time flipflopping between English to Linguistics and Central Alaskan Yup'ik, then finally (most recently) back to English. That being said, I'm one class away from having my bachelors in Yup'ik, so I'm planning on finishing that degree alongside an English degree.
What really decided it for me was when I took a Creative Writing class for a Linguistics degree requirement and I wrote a flash fiction horror story. It was exhilarating and tied into my love of the genre—then the most amazing ego-stroke happened. People actually LOVED it and even though I absolutely love, I had no idea that people would love my horror fiction. That's around the time I found Puzzle Box Horror and the rest is pretty much history.
2. We talk to a fair amount of new writers. What tips would you give yourself if you could go back to when you started based on what you know now?
Write. Write every day. Even if it's just a journal entry, it's an exercise in using language to express yourself. Don't be afraid of critique, it's actually one of the most beneficial things a writer can receive. It can illuminate the things that you might be having difficulty with and it can often point out things that don't work.
If you find you're having trouble writing, remind yourself that all first drafts are shitty. In fact, they're literally called "shitty first drafts," but that's what the editing process is for. Write that shitty first draft, then set it aside. I look to Stephen King a lot when I think about the editing process, he recommends at least six weeks between finishing your shitty first draft until you go back and edit the shit out of it.
Let people read your writing when you're done! Don't be afraid to put your work in front of someone. Don't be afraid of rejection when you finally submit for publication, because rejection doesn't mean you failed. It's just a learning experience and it will help you grow as a writer. Also, even though you should shoot for the stars, not everyone ends up a best selling author. That doesn't mean you can't make a feasible living doing what you love.
3. Has living in Alaska influenced your writing at all?
I can honestly say that it has! I've seen most of the state, but I still have a lot to explore—through my study of indigenous Alaskan cultures I've come across such a treasure trove of Alaska Native cryptid and ghost lore. Hopefully I'll be illustrating the rich culture of lore and haunted nature of a lot of the abandoned places in the state with our next edition of Atlas of Lore.



4. What are your top three favorite horror books?
This is a crazy good question—I absolutely love Rosemary's Baby by Ira Levin, Psycho by Robert Bloch, and The Shining by Stephen King. I think the honorable mentions would be anything by Shirley Jackson, who was a total boss, and The Turn of the Screw, a novella by Henry James.
If you're interested in learning more about Mary Farnstrom, check out her website at www.theunhingedalaskan.com. You can also follow the author on Twitter (@RealMacabreMary) and Instagram (@realmacabremary)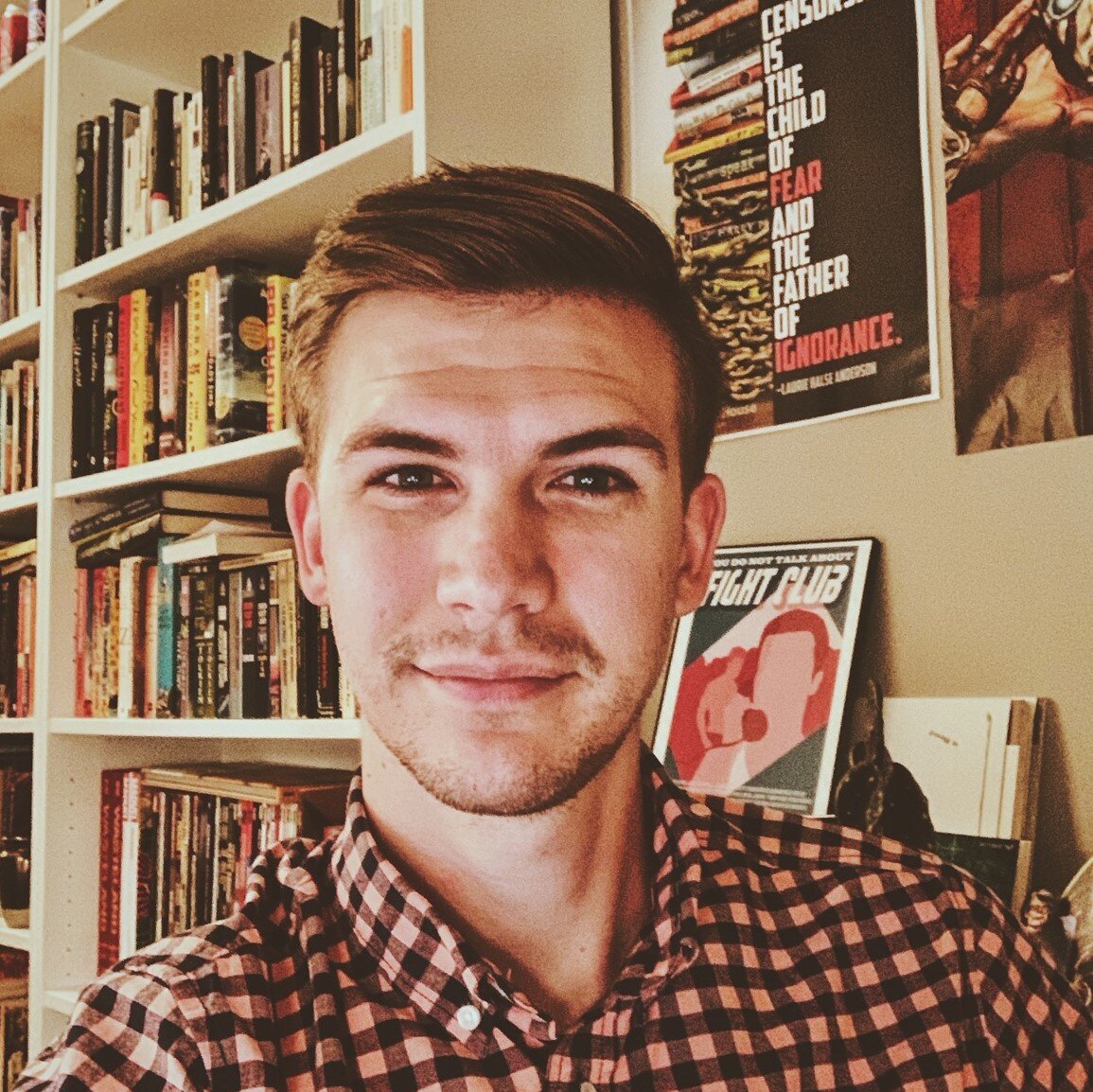 Ben's love for horror began at a young age when he devoured books like the Goosebumps series and the various scary stories of Alvin Schwartz. Growing up he spent an unholy amount of time binge watching horror films and staying up till the early hours of the morning playing games like Resident Evil and Silent Hill. Since then his love for the genre has only increased, expanding to include all manner of subgenres and mediums. He firmly believes in the power of horror to create an imaginative space for exploring our connection to each other and the universe, but he also appreciates the pure entertainment of B movies and splatterpunk fiction.
Nowadays you can find Ben hustling his skills as a freelance writer and editor. When he's not building his portfolio or spending time with his wife and two kids, he's immersing himself in his reading and writing. Though he loves horror in all forms, he has a particular penchant for indie authors and publishers. He is a proud supporter of the horror community and spends much of his free time reviewing and promoting the books/comics you need to be reading right now!